Editors Note: We're taking a few minutes on this July 4th weekend to look back at one of the many highlights of the past year. For those of you who have recently learned about Doctor Tro Kalayjian, you may find this story inspirational. 
Last November, when Doctor Tro Kalayjian tweeted to his more than 12,000 followers that he was hoping to run a 5K race in under 20 minutes, the announcement was met with a great deal of interest.
Just three years earlier, the Rockland County weight loss doctor weighed 350 pounds, and the thought of running even a short distance was the furthest thing from his mind.
The story was picked up by Journal News award-winning sports reporter Nancy Haggerty, making the front page of the Journal News sports section and was featured prominently on the Journal's online outlet Lohud.com. The coverage included a short video created by visual journalist John Meore, which was later picked up by USA Today.
The article was published Friday, December 7, two days ahead of the annual Orangetown Recreation Santa Claus 5K Run, and may have provided Kalayjian with some additional motivation for his run. "I had done a three-mile training run in 19:45 a few days before the race so I knew breaking 20 minutes on the 3.1 mile course was a realistic goal," said Kalayjian. "When I realized that tens of thousands of people saw the article and video, including many in my hometown of Tappan, I had even greater motivation."
Kalayjian ended up crossing the finish line first in the 30-39 year-old age group and eighth overall with a time of 19:01—a pace of 6:08 per mile.
3 years ago today, my wife asked me if I'd be alive to see my kids grow. I was obese, had prediabetes, sleep apnea, hypertension & joint pains

Since then, I've lost 150lbs w/ keto & intermittent fasting. NOW healthier than EVER.

Read the whole story 👇🏻https://t.co/DDIf0OR2vw

— Tro (@DoctorTro) December 8, 2018
A tweet linking to the article was retweeted more than 220 times and liked more than 1,600 times. The article was shared extensively on Facebook as well, where a post on the Dr. Tro's Medical Weight Loss & Direct Primary Care Facebook page reached more than 10,000 people.
"When I was 350 pounds, running would have been terrible for me, terrible on my joints," Kalayjian told the Journal News. "I had joint pain all the time and after losing 80 pounds using this lower carb approach, exercise became a pleasure. I slowly started increasing exercise, and avoiding the Wheaties and Gatorade. Somehow I got better and better, and got my mile times down. Ultimately I was able to lose 150 pounds by eliminating processed carbs and sugars."
Kalayjian lamented the early years of his career when he was still giving patients the standard advice, which was to eat less, try to move more, and try to lower your fat intake. "I became really frustrated because it didn't work," said Kalayjian. "I shouldn't have been surprised. It didn't work for me, why would it work for my patients?"
"I tried following the guidelines, reducing fat and trying to eat leaner meat, and I found that did not help me," Kalayjian said. "Then, after going back to the medical textbooks, I learned more about what works and what doesn't work."
"Now, I help people with diabetes come off of insulin, come off their medications, all by lowering sugar and lowering processed carbohydrates, and focusing on real healthy foods with fat and protein."
Kalayjian opened Dr. Tro's Medical Weight Loss & Direct Primary Care practice in Tappan, NY in early 2019.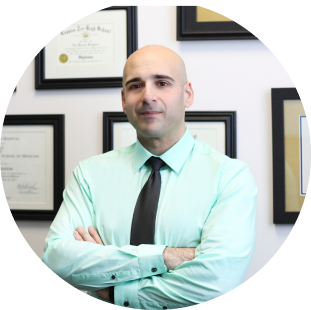 I am a board-certified physician, I lost 150lbs to reclaim my health for myself and my family. I did it by ignoring much of the conventional medical advice that we have been told. My life's goal is to get you healthy and prevent disease. I want to get you OFF of your medications.