I had no idea what I wanted to do.
Going into college, I knew that helping people was important to me, but I wasn't sure how to put that into action. After trying out a few programs with little success, I stumbled into Kinesiology. It was a program housed within the College of Education, and would allow me to figure out what I was most interested in. Primarily due to lack of suitable options, I gave it a shot.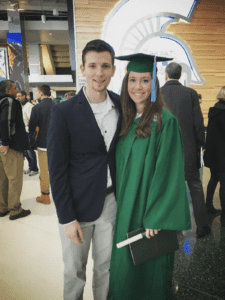 Very quickly I realized that this program was everything I wanted and more. I was learning about the human body both in motion and at rest. I was training in physiology, biomechanics, anatomy, and psychology. The classes encompassed the full spectrum of my interests, even introducing me to new ones.
Fast forward a few years.
I found myself in a high school weight room with 32 varsity football players. My job was to keep them healthy on the field – and that meant honing in on strength and conditioning.
But it also meant so much more. These kids had to trust me. They had to know what I was asking them to do was for their benefit and the benefit of the team. They had to believe in the almighty powers of the weight room – because to be frank all they wanted to do was sit in the hallway and flirt with the cheerleaders. Asking hormonal teenagers to run ladders when their bombshell girlfriends are winking at them eight lockers away is no easy feat.
Nonetheless, as they got stronger and were able to compete on the field at a higher caliber, things started to click. They looked at the squat rack as a means to winning, and my tedious neck training exercises as a concussion prevention program to keep them off the bench. That season we had very few injuries on the field – and I knew something I was doing was working.
Fast forward a few more years.
I started working with adults in a gym in Ohio. We utilized metabolic conditioning training and emphasized clients joining us for 60 minute sessions at least 3 times a week. Each session was fun – filled with camaraderie, inappropriate "That's what she said!" jokes, and grumblings about the fresh hell I had written on the board for them. We laughed when former NFL player Jim farted during walking lunges. We cried when Martie's husband left her. We celebrated Josie's twins FINALLY graduating high school. We were a family.
While most of those adults initially joined the gym to lose weight, the reason they showed up each week rarely was to move the number on the scale. Rather, it was stress relief, it was a community. It was hard work that helped them forget the hard bits of their lives for 60 minutes. Exercise is about so much more than weight loss. When you workout you may experience mental clarity, improved sleep quality, and mood enhancements – just to name a few, but I would rather you move your body, lift weights, jog or ride a bike because you want to, not because you have to.
When I walked that stage at graduation to grab my degree I knew I wanted to do something with it. I didn't want it to sit on a shelf collecting dust. I just wasn't sure how I wanted to go about utilizing it.
You only get one shot!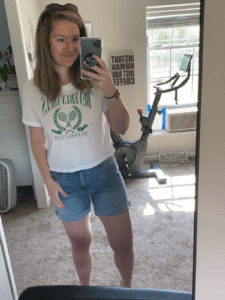 Now I'm clear. Between my passion for health coaching and personal training as well as my own weight loss experience, I want to help you feel your best. I know "live your best life!!!" is a pretty cliche, but it kind of has a point. We only get one shot at this whole living thing, so why not feel great?
We each have our own set of goals, injuries, preferences and time constraints. I don't believe a one-size-fits-all approach to working out is necessary. Maybe your cardio is dancing around the house with your favorite song blasting on the stereo. Maybe it's running a half marathon or walking the beach with a podcast. I think it's important that we buck the narrative about exercise. Let's take a step back from the cookie cutter ideologies and put together something individual, enjoyable, and challenging.
You can watch my personal story here!
I feel truly honored to be alongside a team of Physicians and Health Coaches who care because we lived it.