In the Group Coaching meeting held on January 19th, our featured guest was Maria Emmerich.
Maria is a nutritionist who specializes in the ketogenic diet and exercise physiology. She struggled with her health and weight throughout childhood which lead her to become such a passionate nutrition expert. "My goal is to help transform people's lives and start living again!" Maria specializes in brain neurotransmitters and how food can increase mental wellness. H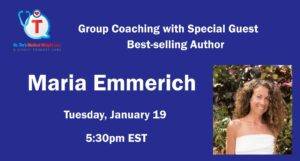 er expertise has sent her around the world speaking about ketogenic diets. She has also cooked with Halle Berry and writes for Halle's website.
She spends the majority of her time with clients around the world via Skype with amazing results. She specializes in helping autoimmune disorders, diabetes (Type 1 and Type 2), heart disease, cholesterol issues, alopecia, Hashimoto's, cancer, epilepsy, seizures, depression, and anxiety. You would be amazed at the number of people who get off medication with her guidance. She is also an International Best Selling author of several books including Quick and Easy Ketogenic Cooking and The 30 Day Ketogenic Cleanse. She also authored 10 other books including several cookbooks and three nutritional guide books including the best-selling book Keto. Some of her readers include Halle Berry, Valerie Bertinelli, and Al Roker.
Our Group Coaching program meets via Zoom every Tuesday at 5:30 pm ET and explores different topics each week. 
Discussion: 
One of Maria's favorite easy go-to recipe is the chocolate hard-boiled egg pudding that is super easy to make and even goes over well with non-low carbers. Health coach Amy Eiges enthusiastically agreed with this, saying she has made it for many people who can never tell what the secret ingredient is!
Maria and her entire family eat a low carb diet — Maria stays under 10 total carbs per day, her children generally eat under 15 total carbs per day. Her husband Craig eats a carnivore diet to deal with issues from Lyme disease; eliminating oxalates helped him with his chronic pain and migraines.
Maria noticed when her children go to parties and have some high carb foods, they end up feeling awful, and sometimes get sick (she attributes this to the dramatic increase in the blood glucose after being stable for so long.)
She recommends doubling or tripling up recipes to store in the freezer, "This way there is never a time when a homecooked meal is not available." Maria recommended her protein lasagna recipe as a great item to have on hand in the freezer.
When faced with a client stalled in weight loss Maria's first question is, "Are you nut, dairy and caffeine-free?" Sometimes she asks clients to eliminate or cut back on all of these things to get weight loss moving again.
Work on controlling emotional eating by substituting the behavior with: exercise, listening to podcasts, reading, listening to music, anything that inspires you and can fill that void when you feel the need to eat for emotional reasons.
Maria responded to a question about missing crunch: some good replacements are ice chips, pork rinds, or her zero carb nachos. She explained, "there is an addictive sensation called sensory-specific satiety that is triggered by the inner ear, this is why it's hard for us to stop eating chips, nuts, and other very palatable crunchy foods."
Maria and Tro both agreed that exercise is best done in the morning, but that whenever you can realistically work it into your schedule is best. Both advised if you're new to exercise, start slowly and don't worry about the scale in the beginning because of the body's stress response. "It's mainly water weight — don't panic."
Maria recommends moving after a meal to help regulate and lower blood sugar, take a walk, clean the house, do something besides watch TV or be sedentary after eating.