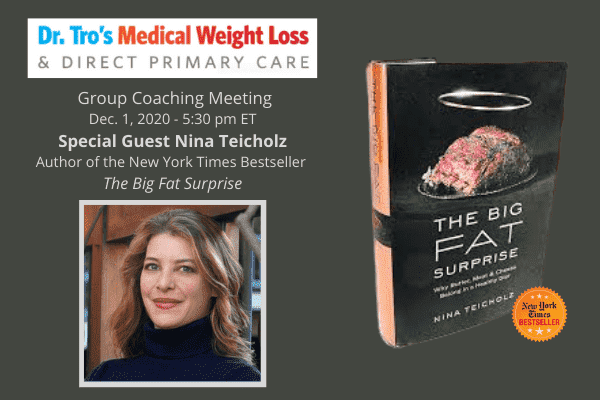 In the Group Coaching meeting held via Zoom on December 1st, we were excited to have as our guest Nina Teicholz, author of The New York Times best-selling book The Big Fat Surprise. Nina is also the executive director of The Nutrition Coalition, a journalist and professor (adjunct) at New York University.
    Discussion
The main reason low carb is not more widely recognized is because it is the opposite of a low fat diet — the status quo that most medical and nutrition experts put all their faith into.
There are many interests in the processed food, medical and pharmaceutical industries that would suffer if people adopted a healthy low carb diet.
The majority of medical diabetes associations are makers of insulin. Novo Nordisk, one of the world's largest manufacturers of insulin, is the founder of the World Diabetes Foundation and the American Diabetes Association counts many large insulin manufacturers among their funders.
PR firms are often hired to promote stories that scare people away from trying low carb and keto diets. Ex: Remember 'Keto Crotch' stories last year?
In our present food environment, we have more diseases and more medicine, yet few are getting better.
Conflicts of interest on the part of the 20-member Dietary Guidelines Advisory Committee (DGAC), the board that decides our nation's nutrition policies, are rampant, As an example, one member of the DGAC is the former medical director of Nestle/Optifast and another the former medical director of Merck.
The top funders for most academic institutions (which also provides funding for much of the academic research done by members of the DGAC) includes pharmaceutical companies, government agencies who are deeply invested in maintaining status quo and for-profit companies like Hormel, Coke, Nabisco, Nestle, etc. This makes it challenging to trust the data.
The Dietary Guidelines for Americans (DGA) affect all of us and it is imperative they are evidence based. They are used to determine school lunches, food assistance programs, and food served in nursing homes, hospitals, military and prisons. The DGA also guides the advice medical professionals give out.
The DGAC has chosen not to disclose conflict of interests and cherry-picks the science. Congress mandated changes to this process, but the DGAC has yet to implement these changes.
The DGA is actually intended for prevention of disease only, but they are not marketed as such. With only a very small percentage of Americans metabolically healthy, this means that the DGA are only appropriate for a small minority of the population — roughly 12% of us.
The Nutrition Coalition is actively working to have the 2020 Guidelines include the warning label: "For Healthy Americans" only. If you want to support The Nutrition Coalition and Low Carb Action Network to make a change to the DGA, visit the links below.
Learn more about the Group Coaching Program


https://www.nutritioncoalition.us/


https://lowcarbaction.org/