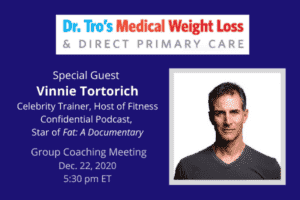 In the Group Coaching meeting held via Zoom on December 22nd, our featured guest was Vinnie Tortorich, a celebrity fitness trainer, speaker, host of the popular Fitness Confidential podcast, bestselling author of Fitness Confidential: Adventures in the Weight Loss Game, and filmmaker of Fat: A Documentary.
Discussion:
Vinnie Tortorich will be releasing Fat: A Documentary 2 in January. Fat 2 will complement his first movie Fat: A Documentary by taking a deeper look at the ways those working to maintain nutritional status quo or pushing a vegan agenda are operating.
A lot of low carb and ketogenic social media groups and accounts have been shadow-banned over the last few months — censored in such a way that the user's content on social media is blocked without the user knowing about it. The posts of those who have been shadow-banned can only be seen by your followers but hidden from everyone else.
Vinnie recently had his Wikipedia page inexplicably removed even though it contained only accurate and verified information. When he attempted to have it reinstated Wiki claimed they could not verify he was an actor, filmmaker, or author even though his book was a best-seller, and his film is available all over the world.
He found a profile with his name on a website called RationalWiki, which was filled with misinformation and offers no recourse to have the false information removed.
One of his favorite sayings: "It's not what you eat between Christmas and New Years, it's what eat between New Years and Christmas."
Over the years while doing long-distance cycling races, Vinnie began to notice people capable of amazing athleticism, bike riding 200 miles, in tremendous shape but were getting more overweight every year. He noticed people would gather after the races and eat entire pizzas, drink pitchers of beer on top of all the Gatorade and power bars they were eating at each rest station.
Vinnie talked about the various exercise zones and ways to maximize their benefits:

Zone 2 training (70-80% of your maximum heart rate) helps build up the mitochondria. This can be a particular asset when training for high endurance events: you need the mitochondria when the body goes into higher zones. To progress your cardiovascular ability he suggested building up both volume and time — training more days in zone 2 will eventually increase your time and distance. You will begin to find it easier and easier and improve conditioning as time goes by.
When doing cardio or HIIT exercise and entering zone 3 (80-89% of your aerobic capacity), you burn some fat but your body can't keep up so you begin to burn sugar along with the fat. Zone 3 exercise can drive hunger because you have lost enough blood sugar that your brain is telling you to replace it when you're done.