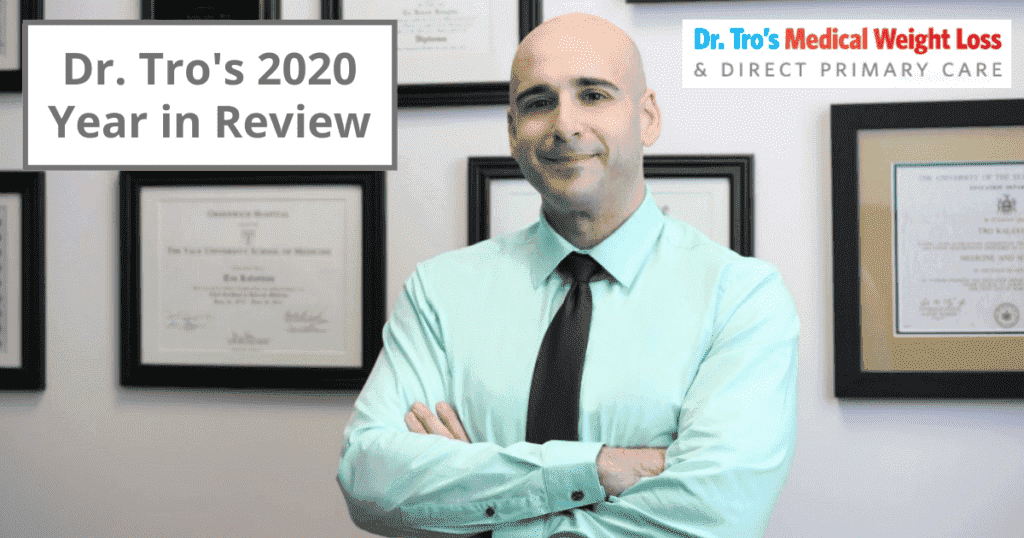 As I sit here writing this year-end review for our practice, a member of my staff has literally been waiting on the phone for three hours with an insurance company, to provide them with the information needed to get an urgent test approved. The insurance company wanted the notes from the specialist who was co-managing our patient. We called the specialist and waited on hold with their office for 30 minutes before getting in touch with someone at a phone center located in another country. After finally getting through to the onsite staff of the specialist, we were told they cannot fax the notes to the insurance company any sooner than 72 hours.
If I had hair, I would be pulling it out. And this is just one example—these types of stories are endless, the result of a broken medical system. A system where insurance companies, pharmaceutical companies, medical organizations, hospitals and doctors somehow all get wealthier while our patients are actually getting sicker.
Physicians, stuck in the status quo, are failing to see the power of diet and lifestyle on the medical outcomes of their patients. We have actually had physicians complain to us, after our lifestyle interventions improved patients' health and allowed them to discontinue medications that are no longer needed.
We had an endocrinologist call our office, sternly stating she believes we have "inappropriately reversed fatty liver" in our mutual patient. We have had other endocrinologists tell patients "not to trust us," despite drastically reducing their insulin needs with therapeutic carbohydrate restriction.
A patient in our clinic with type 1 diabetes achieved an A1C under 7% for the first time in her life while reducing her insulin needs by 50%, yet her endocrinologist was unimpressed.
Our medical system is in a terrible state of affairs.
But today, I was reminded by one of our patients that our practice is different, and that we offer hope. This patient has lost over 100 pounds with the help of our office, despite previously seeing teams of doctors and nutritionists and finding no solutions.
Her words stay with me and give me calm.
"None of my doctors knew how to treat me. They gave me pills and told me to exercise more, when my entire body was in pain and hurting due to obesity. Your staff cared enough to spend time with me, teach me, be there for me when I was struggling. You encouraged me when I succeeded, and helped me fine-tune things when I was struggling. Your team understands."
"When I call your office, someone picks up. When I text your office, yes, I can text my doctor's office(!), someone responds… You all have given me support, hope, and a plan…"
Despite our great clinical outcomes, including two peer-reviewed publications of our clinical results, our office has faced unfounded criticism from doctors still trapped in a failing system. It's not only the endocrinologists who have spoken out against us. We have been taunted on social media by obesity medicine doctors who are unwilling to accept the reality of the abject failure their methodologies have produced. Their position is understandable if you consider where they come from, and how vulnerable their revenue streams are to lifestyle interventions that produce real results.
Our practice is a threat to their existence. We are a threat to their outdated models and their bottom line, and our laser focus on patient outcomes scares them and what they represent—a flawed and failing system.
Despite the obstacles we often face, the outlook is actually encouraging. Each and every day, more doctors are seeing our results and referring countless patients to our practice. We are booked out for several months, and most of these patients are referrals from other doctors who see the value in our approach.
With that in mind, I would like to share with you how we have executed on our plans for 2020 and how we intend to expand and improve in 2021.
I want to thank my family for their love, our patients for their trust, our supporters for their loyalty, and our more progressive colleagues for their collaboration, and so many more for helping me to become part of this amazing community that is focused on the well being of people.
A Year-in-Review and Update on Our Medical Practice and Clinical Operations
Over the past year, our practice has grown significantly as we have expanded and improved our patient experiences and outcomes. In 2020, we achieved many major clinical, research, and educational objectives, and we'd like to take this opportunity to share some examples of the progress we have achieved, as well as our plans to continue to improve upon our delivery of exceptional medical care.
Telemedicine & Remote Monitoring
We have increased our telemedicine offerings in an effort to continue to deliver exceptional patient care. With our expanded relationship with QardioMD, we have now deployed over 500 body composition scales and blood pressure cuffs. We have worked closely with Abbott Diabetes Care to coordinate more seamless integration of medical information for continuous glucose monitoring, and have streamlined our processes with several organizations to expand our remote capabilities.
Our office is now able to utilize remote sleep studies, ambulatory blood pressure monitoring, holter monitoring, and much more. We continue to add partners in order to remain on the cutting edge of remote monitoring and telemedicine care.
When we first launched our practice, our focus was on monitoring:
Fat mass
Water weight
Lean mass
Blood pressure
Glucose
Over the course of the past year, we have expanded to also remotely monitor:
Sleep quality using home-based sleep studies
Continuous glucose monitoring (CGM)
Heart rate and rhythm
Heart rate variability
Serum ketones
We recently received a shipment of CGMs and are now able to provide them directly to our patients and coaching clients in any state where we are licensed.
Working with Low Carb Industry Partners
In 2021, we plan to work more closely with other companies that share similar goals and visions. For example, in 2020 we partnered with Diet Doctor to deliver access to their amazing website and resources to all of our patients. We also partnered with Keto-Mojo to use their new meters with our patients and in our clinics. We have worked with low-carb food vendors including Rosette's, Quest Nutrition, Brami, Keto Chow, Coco Pollo, Chomps and more, so we can offer patients low-carb replacement options to the foods they enjoy. In 2021, we plan to expand on these relationships, bridging more closely the needs of our patients and pairing them more effectively with existing solutions.
Clinical Research
As we continue to deliver exceptional care, we also want to share our results and protocols with the medical field. We have collaborated with several prominent scientists and clinicians to bring our results to the medical literature. With Drs. Shebani Sethi Delai and Dr. Eric Westman, we co-authored a paper demonstrating the efficacy of a ketogenic diet and intermittent fasting protocol in patients with binge-eating, demonstrating in this case that a ketogenic diet and intermittent fasting improved an eating disorder. With Dr. Shariq Shamim, we co-authored another case series demonstrating the resolution of severe hypertriglyceridemia using our protocols, calling into question the NLA guidelines that erroneously state ketogenic diets are contraindicated in severe hypertriglyceridemia. In 2021, our goal will be to publish at least two more publications with a focus on highlighting the need for more flexibility in the American Diabetes Association guidelines for diabetes type 2 and the American Heart Association guidelines for the management of hyperlipidemia. We would specifically like to thank our patients who have agreed to anonymously share their fantastic clinical results.
Labs and Imaging
In 2020, we expanded our partnerships with Quest and Labcorp. We finalized our partnership with Quest, and now have a nationwide account, which enables us to provide discounted cash pricing throughout the United States for patients who don't have insurance coverage. Similarly, with Labcorp, we have secured non-insured pricing. We have also finalized a partnership with Boston Heart Diagnostics to offer discounted advanced lipid testing. We have expanded our in-office point-of-care labs to include lipid panels, A1C, ketones, and a CHEM-8, including hemoglobin and ionized calcium. Our office also offers influenza and strep testing, and is actively seeking COVID self-testing for 2021. We have also worked with several local imaging centers to secure discounted pricing for our local patients (for example we have secured $100 pricing for CAC heart tests). We continue to offer and expand upon our in-office, point-of-care ultrasound testing, and we have expanded our relationship with Butterfly iQ, buying a newer probe model with advanced ultrasound features.
Expansion of the Health Coaching Program
In 2020, we hired two amazing health coaches. Amy Eiges, an ACE certified health coach who has lost over 200 pounds using a low-carb ketogenic approach. Amy brings a wealth of information from her work at the Nutrition Coalition and the Low Carb Action Network. Amy was recently featured on Vinnie Tortorich's Fitness Confidential podcast and profiled on Diet Doctor. Brian Wiley, an ACE certified health coach and personal trainer who lost 100 pounds and has successfully maintained the weight loss for the past 12 years, has also joined our team as a health coach. Brian has been featured on Atkins and Diet Doctor. In 2021, we intend to hire an additional health coach with a background in psychotherapy.
Development and expansion of our Group Coaching Platform
In response to the COVID epidemic, we started a group coaching program to bring our patients and clients together to discuss strategies for maintaining healthy lifestyle measures during this stressful time. This program has now expanded to include dedicated 1-on-1 health coaching and biometric monitoring. We have developed and expanded our curriculum for this program and added several interactive components to make the program more meaningful for attendees. We have interviewed low-carb experts in an effort to bring new information and showcased our members to continue to develop the interactive and social-bonding aspects of this program. In 2021, we will continue to encourage this strong sense of community by adding smaller focus groups with a more intimate feel.
Insurance Coverage
In 2020, we finalized processes to help patients submit bills for out-of-network coverage to their insurance provider. While only a minority of patients have out-of-network benefits, we will work with patients to find out if they have out-of-network coverage and if applicable we can submit bills on their behalf to help seek payment for medical services. These payments can sometimes help to offset their out-of-pocket costs and in some cases pay for any additional medical services needed. In 2021, we do not anticipate participating in any medical insurance programs. We feel that at this time, contracting with insurance companies will compromise patient outcomes.
State Licensures
We are aggressively expanding our medical licensure applications so that we can offer comprehensive care across the entire United States. We have already obtained full medical licensing in New York, New Jersey, Pennsylvania, Connecticut, and Texas. We expect full licensing from Maine and Massachusetts in the coming months. We have obtained temporary licensing from several states, including Virginia, North Carolina, and Arizona. We have also applied for telehealth privileges for the state of Florida. In 2021, we will seek to expand to California and throughout the 30 states in the medical compact, including Washington State, Illinois and many others. Our goal is to be licensed in all 50 states by 2022.
LowCarbMD Podcast
Founded in 2018 by Dr. Tro Kalayjian and Dr. Brian Lenzkes, the LowCarbMD Podcast surpassed 3 million downloads in 2020, and has maintained a top 10 rating on iTunes in the Medicine category for the entire year. The Podcast has produced more than 150 episodes, featuring the most knowledgeable practitioners and researchers in the low-carb world, along with a long list of patient success stories. In 2020, we began making select episodes available for live streaming, where our patients and Patreon supporters can watch interviews live and participate in engaging Q&A sessions. In 2021, we hope to expand on our LIVE program and develop our Youtube channel. We have also moved the entire operation of our podcast to a not-for-profit status, which is more in-line with our mission of outreach, mentorship and community development. In 2021, we also plan to launch a redesigned website.
Education and Outreach
In line with our goal of expanding our educational initiatives, we have worked with three medical students this year, and with one medical resident. We would like to thank Jordan McCreary from Einstein School of Medicine and Kristen Gavidia from Touro Medical College for all of their hard work in bringing our clinical data to the literature. We would also like to thank Dr. Subrat Das from Mt. Sinai for his work in presenting our clinical data. In 2021, we will look to work with six more medical students in order to expose them in a dedicated 6-8 week rotation with the goal of cultivating both clinical experience and clinical research. We are in preliminary talks with Touro to create a dedicated research-oriented clinical clerkship.
With regards to professional outreach, we have been asked to consult on several operational projects for other physician practices. Unfortunately we had to turn down most requests due to timing and the COVID pandemic. In 2020, we have consulted for four physician practices to bring our innovative back-end solutions to their medical practices. In 2021, we expect to continue to work with physician practices on a consulting basis.
During the past year, we traveled to a nursing home in New Jersey and a group home in Pennsylvania to provide education to their staff on how to implement low-carb diets to patients who are exposed to the problematic modern foods that often lead to metabolic health problems. We provided information and strategies on how to implement low-carb nutrition plans for the purpose of improving metabolic health.
Blog Articles, Social Media & Newsletter
One of the major focuses of 2021, will be to develop our educational video content. We are working with graphic designers and video directors to create a concise educational curriculum to support the patients in our medical programs. The primary focus of this will be to improve our patient experience and outcomes, but this will also provide for more interactive blog and newsletter content. We believe this will support our outreach initiative.
Philanthropy
We have worked closely with several other doctors and members of the low-carb community to launch the Society of Metabolic Health Practitioners (SMHP)—a non-profit 501c3 professional medical organization focused on improving metabolic health through therapeutic carbohydrate restriction. Dr. Tro is a founding board member of SMHP.
In partnership with Rosette's, our practice donated low-carb cookies to Yale New Haven Health during the height of the COVID pandemic.
Summary
Above all, our goals are to continue to innovate and improve our medical care, our patient experience and patient outcomes. We believe we are at the cutting-edge of technology and innovation in obesity medicine and metabolic health. We aspire to become as versatile and innovative as our private-sector colleagues at Levels Health and Virta. Although we do not have corporate backing, we do have an unwavering desire to excel at what we do. Our desire is truly to do better and become better. We thank all of our patients, coaching clients, partners, and colleagues. A special thank you to our staff, specifically Tory Jones and our managerial leadership, Taline Boyadzhyan and Rosette Vartanian, Esq.
Thank you for helping us fulfill our goals and our commitments to excellence.