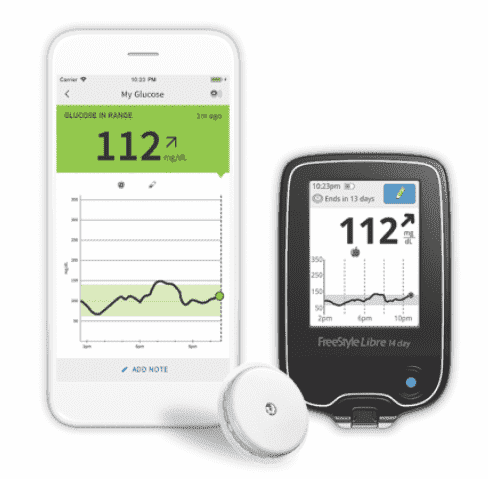 Dr. Tro's Medical Weight Loss & Direct Primary Care is pleased to announce it now has continuous glucose monitors available for sale to patients and coaching clients who live in any of the states in which the practice is licensed. The practice recently received a shipment of the Freestyle Libre CGMS, and is looking forward to making the process of obtaining this important device easier for our patients and coaching clients.
The Freestyle Libre is a continuous glucose monitoring system which features a small sensor that is worn on the back of your upper arm. The sensor automatically monitors your glucose levels day and night.
Instead of fingersticks, one simply swipes a smartphone or reader over the sensor for a painless one-second scan. Each scan provides a current glucose reading, a trend arrow, and an 8-hour history.
"The CGM basically shows the person wearing it the impact of food, stress, and sleep on your blood sugars and, paired with a good health coaching program, it can provide important educational benefits," said Dr. Tro.
"It can help provide some insight into why you're hungry, and what's what's affecting your appetite. I think ultimately, this will be a convenience to our patients. They don't have go to the pharmacy, we can just ship it right to them. Some pharmacies don't stock them, and other pharmacies charge an absorbent amount. So we take all the hard stuff out and make it really easy and ship it directly to patients."
Dr. Tro says the CGM will help patients learn some important truths,
"They'll basically learn who lied to them. If your doctor or dietitian told you that eggs cause diabetes, you'll see right away what eggs do to your blood sugar. And you'll see how, oatmeal affects your blood sugar. It's an incredibly valuable and truly personalized tool, because it shows you how your body reacts to the foods that you eat."
If you are a patient or coaching client living in one of the states in which we are licensed, contact the office to purchase a CGM.
Learn more about our Medical Weight Loss Program and our Direct Primary Care.
Learn more about our Health Coaching and our Group Coaching Program.