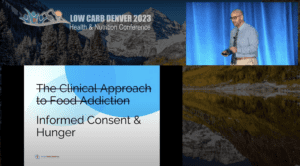 Watch Dr. Tro's powerful presentation on "The Clinical Approach to Food Addiction, Informed Consent & Hunger" at Low Carb Denver 2023, Health and Nutrition Conference. Dr. Tro is an unwavering champion for metabolic health, dedicated to empowering the medical community to make it a top priority. He urges healthcare professionals to break free from conventional methods and embrace alternative approaches when traditional strategies fall short. Dr. Tro's relentless pursuit of pushing boundaries and promoting innovative thinking in patient care is truly inspiring, driving positive change in the field of metabolic health.
Dr. Tro Kalayjian is a board-certified physician specializing in internal and obesity medicine, with expertise in diabetes, hypertension, and lipid management. With a steadfast commitment to implementing lifestyle and dietary modifications, Dr. Tro has achieved remarkable success. Having personally shed over 150lbs, he has also effectively guided numerous patients in weight loss, diabetes management, and hypertension through remote consultations utilizing cutting-edge telemedicine equipment and software.
Even more, Dr. Tro and his dedicated team have meticulously crafted the Doctor Tro app, a remarkable "metabolic health clinic" conveniently accessible on your mobile device. This comprehensive resource provides a self-guided weight loss curriculum and a wealth of information on metabolic well-being. The user-friendly platform enables you to embark on your health journey at your preferred pace, empowering you to take control of your metabolic health. If you have any questions or require further guidance, don't hesitate to reach out to Dr. Tro's team, who are committed to providing the assistance you need.
Subscribe to the Low Carb Conferences YouTube channel to stay up to date on the benefits of low carb nutrition, gain insights from research and clinical experiences by engaging with the channel's educational content.