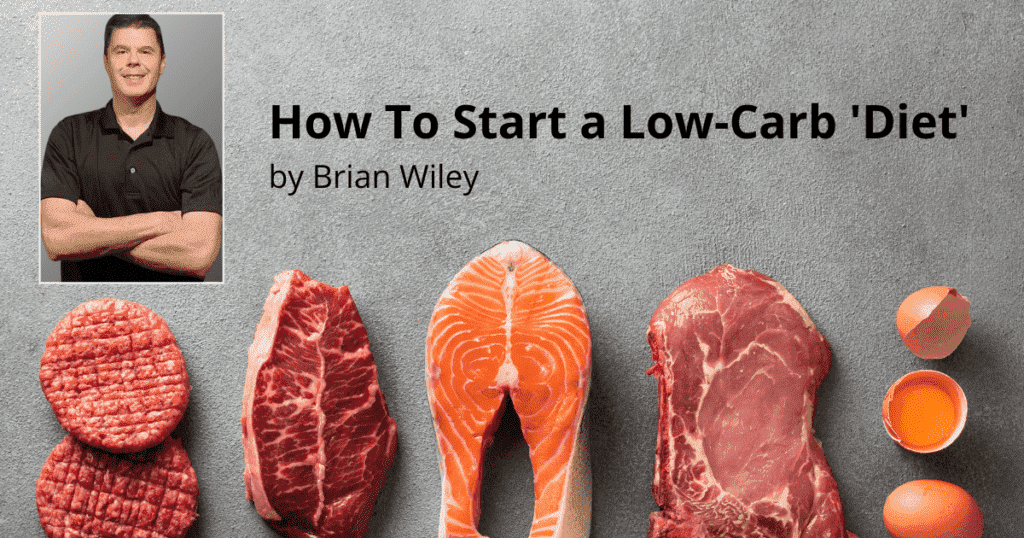 How do I start low carb?
That's an important question you need to consider if you've ever thought about using therapeutic carbohydrate reduction (TCR) to meet your weight loss and metabolic health goals.
Unfortunately, starting a low-carb/ketogenic diet can be very confusing, because there is so much conflicting information out there.
A simple Google search can result in hundreds of pages of information. Each one of those pages can differ greatly from each other, each plan can be different, and since low-carb ketogenic diets are so popular now, there are many vultures on the scene trying to capitalize and prey on people trying to improve their health. They will try to steer you into paying for information or products that you don't need, but the information you need to start and be successful on a low-carb/ketogenic diet can be found for free.
The trick is not getting lost in the sea of misinformation on the internet — do not drive yourself crazy. Start with information that has been developed by knowledgeable practitioners and health coaches, and has been shown to provide results.
Here are a few great FREE resources I have curated for your use as you begin your low-carb/keto journey:
And in case you'd like a few more posts to help you along your journey, here a some others I think you may find useful:
After you have checked out and bookmarked some of these great resources, you should be developing a solid idea on how low carb and ketogenic diets work, and what to expect.
When starting out, it's important to keep it simple and be prepared. The simpler you keep your food lists in the beginning, the better chance you will have to figure out what foods satisfy you, and keep you full, and what foods make you hungry/hungrier. Take it from me, its easier to start simple and add as you go then it is to start with too many different things. Clean out all the unacceptable foods out of the house and workplace and replace with acceptable foods. Use Dr. Tro's 5 Simple Steps to develop your own list of the foods you will include (as well as the foods you will exclude).
You'll be focusing on meals rich in protein and healthy fats, including beef, fish, chicken, lamb and seafood, as well as yogurt & cheeses. Low-sugar fruit like olives, peppers, cucumbers, avocado are all great options, and feel free to eat as many green leafy vegetables as you want.
Now that the house, workplace and car are cleared of unacceptable foods, you need a little information on preparing for emergencies. You never know what kind of curveballs life will throw at you, and when that happens you don't want to be caught off guard. Being unprepared can easily lead to making bad food choices and could potentially cause unnecessary setbacks. So one of the easiest things you can do is keep your home, workplace and car safe, and have a plan for meal ideas when you need something quick.
Again, refer to Dr. Tro's 5 Simple Steps as you develop your list, and begin stocking items that will help you in your journey. Beverages like coffee, tea, water, and seltzer are essential, and snacks like nuts, protein chips, or low-carb protein bars can be a huge help when the cravings hit. 
Now we have secured the home, workplace, and car, but what do we do in these emergency situations when it's breakfast or dinner time and these convenience foods are not going to be enough, or if you want real food?
Here are some quick and easy things you can do in these emergency situations.
Did you know at every burger place you can order just patties, bacon & cheese? it's often way cheaper than buying the sandwich and tossing the bread.
Almost all grocery stores have whole rotisserie chickens for $5
In a pinch, you can just eat the toppings off a pizza
Now you have a good knowledge of how low carb and keto works, you have safeguarded your home, workplace, and car, and you now have emergency foods available in all these places, as well as a back-up plan for when these foods are not available or going to be enough.
You are getting close to having all the information you need to get started, but there are a couple more important things you should know.
There will be situations where you will be going out to restaurants, vacations, special occasions, or your cravings for something sweet or carby comes up. It may take a little more time to prepare for these but it's not difficult and well worth it.
When going out to a restaurant it's pretty simple. Most places will have options, but be sure to check the menu online before arriving and know what's available. Ask for sauces and marinades on the side, and no croutons on the salads.
When attending a catered event like a wedding or birthday party, volunteer to bring something you know you can eat, or eat before you get there.
Since most vacations are planned in advance, make sure you pack emergency options and see what the options are as far as restaurants, fast food and groceries at your destinations, and know where they are when it's time to eat.
When the sweet tooth and cravings hit, it's best to have a small amount of low carb and ketogenic treats available. In the beginning, you definitely want to limit these treats to emergencies only, but once you get cravings and appetite under control, there are many great options and recipes out there that can help when these situations hit.
Finally, you need to be prepared to advocate for yourself in all these situations above. It will not be easy and you may upset some people who are uncomfortable with the new you, but it will pass. Social situations and peer pressure are something you will more than likely have to deal with, but it's important that you advocate for yourself. Remember, those other people don't have to deal with your health problems or help achieve your goals. You are not doing this for them, you are doing it for you.
Learn more about Dr. Tro's Group Coaching Program, with health coaches Brian Wiley and Amy Eiges.