Is low-carb eating expensive? The short answer is NO, but it can be if you let it!
Why? The main culprits are prepackaged keto products. A lot of pe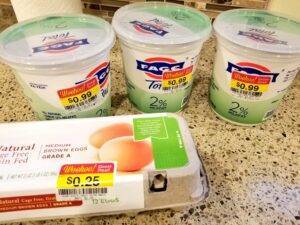 ople buy these to replace the old carb-filled foods they used to eat, but these products are often very expensive and the costs can add up if they become daily staples. Try to limit these products to occasional treats for emergency situations. (As a side note: a lot of these products are not keto-friendly even though the packaging says it is. Always read nutrition and ingredient labels with a healthy dose of skepticism).
Another trap people fall into is thinking they need to buy grass-fed meats, organic fruits and vegetables, pastured eggs, keto supplements and wild-caught seafood. All of those are great options if they fit your budget, but they are not necessary to be successful. Buy whatever version of these foods fits your budget.
Low-carb eating can be very budget-friendly! Buying fresh meat, fruits and vegetables, eggs and seafood is very affordable, especially when you factor in that cooking at home saves a great deal of money over eating out. Plus, with my previous diet of processed junk, I needed to eat every couple hours! Another benefit of cooking at home is there are almost always leftovers which can be saved for a quick and easy lunch or dinner the next day. Once you have been low carb for a while and have your hunger under control, you will probably find you are eating less and not snacking most days — another cost savings.
Shopping low carb is easy and there are many apps and strategies you can use to maximize your savings. Check weekly ads for best prices and when you find good sales on m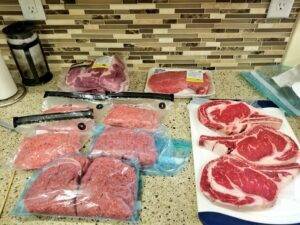 eats, dairy and seafood, buy in bulk! Many of these items can stay for a long time in the freezer. I have purchased a few pricey kitchen gadgets that ended up paying for themselves in a short time. An upright freezer or chest helps store bulk purchase (I suggest getting the biggest you can fit for your needs), a vacuum sealer for buying meat in bulk, instant pot for quick meals and broth, meat slicer for large cuts of beef and for cheese slices, freezer-safe bags, and jars for broth.
The best ways to fill that freezer and put these gadgets to use? You can start by getting all your local grocery store sales ads each week and see which stores have the best prices on the items you're targeting. If it is a great deal then stock up and buy all you can afford! Also be patient and wait for sales — certain months are great for stocking up on meats for the freezer.
February: good for canned meats and vegetables. Super Bowl sales helps find deals on wings, cheese, and lunch meats
March: St. Patrick's Day is good for finds on corned beef and cabbage. Many stores have frozen food sales
April: Easter and Earth Day are great for deals on hams, baking supplies, eggs, kosher items, organic food items, reusable products
May: Memorial Day, Cinco De Mayo and the start of summer barbecue season lends itself to sales on hot dogs, sausages, meat of all kinds, beef, pork, Mexican foods
June: typically when you get the best deals on milk, yogurt, cheese
July: Independence Day is another great time to take advantage of all the meats you may have missed out on in May. Stores are usually competing for business during this time and there are often better prices and selection than earlier in the year
November: Thanksgiving is a great time to throw some turkeys and hams in the freezer and stock up on canned vegetables. This is also a great time to buy kitchen gadgets during Black Friday sales
December: Christmas sale items are similar to Thanksgiving, but rib roast is usually priced cheapest during this month. It's also a great time to ask for kitchen gadgets as gifts
If you don't want to slowly build up your stockpile of provisions, the next best thing to do is join a warehouse club. You can buy just about everything in bulk! Costco usually as the most variety and best quality, and the membership will end up paying for itself on the money save on purchases.
Costco
Meat and Seafood: Costco carries a wide range of fresh meats and seafood and also heat and serve prepared options. They carry nearly every type of protein and cut available, and even carry higher-end prime and grass-fed meats. The seafood is also impressive: King crab legs, whole crab, fresh shrimp, wild-caught and farm-raised salmon, and scallops to name a few. They also have a large selection of precooked meats, pork, and poultry.
Dairy and Deli: a huge selection of meats and cheeses to stock your fridge along with eggs, butter, whipping cream, yogurt, and ready to serve meat and cheese platters.
Frozen: The frozen section at Costco is great to stock up on convenience and other foods, you can find a huge variety of things like fruits & vegetables, riced cauliflower, pre-portioned beef & chicken for quick meals are just a few examples.
Convenience Foods: With keto gaining popularity, Costco has expanded their keto-friendly product inventory to include low carb ice cream, jerky, nuts, pork rinds, and cheese Whisps with the list continuing to grow daily. As noted above, always read labels to make sure these products fit your needs and health goals.
Pantry, Condiments and Oils, Baking Supplies and Spices: Costco carries a huge assortment of condiments and oils to stock your pantry and saves money, like most of Costco's products their condiments and oils are of high quality. You will find everything from dressings, mayonnaise, mustard and olive, ghee, avocado, and coconut oils. Along with all the other things Costco has to stock your pantry you can also add many baking & spice options like Almond flour, monk fruit, vanilla extract, garlic, Himalayan salt, peppercorns just to name a few.
Canned and Jarred Foods: There are so many canned and jarred food products available at Costco to stock up on, but some great examples are low carb tomato sauces, mushrooms, salmon, sardines, and green beans. An almost endless list of nonperishable foods to have on hand for any situation.
Coffee and Beverages: Costco also has you covered with great deals on bulk coffee, bottled and canned seltzer waters, they also carry a variety of unsweetened almond and other nut beverages.
Fast Food
If you have found yourself on the road and in a pinch or with no time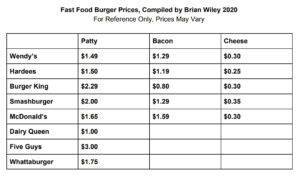 to cook but need to eat, you have options! Any fast food restaurant can offer you bun-less hamburger or grilled chicken patties a-la-carte for much cheaper than you can buy the whole sandwich and tossing the bun and everything else anyway. The checklist here contains most chain fast food restaurants and their a-la-carte prices. If you don't want fast food, you can stop at just about any grocery chain and buy a whole rotisserie chicken for around $5 or baked chicken in the deli. This can make a quick meal if you have some salad or leftover side dishes in the fridge at home.
In the end, using all these strategies will help you save money. The best ways to maximize these strategies? Make as many meals as possible at home, keep your meals simple and cook extra so you have leftovers for a quick breakfast, lunch, dinner or unplanned hunger. One last tip — look for clearance items on everything, but especially things such as pastured eggs, yogurt, butter, and cheese. If they are within 5 days of expiration, don't be shy about asking the store manager to mark them down.