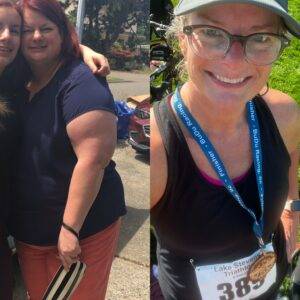 In 2017, Meagan faced a life-altering moment: diagnosed with Type 2 Diabetes and weighed 300 pounds. She decided to quit sugar on the spot, kickstarting a journey that reshaped her life.
Within months, her commitment led to a 7-pound weight loss, impressing her doctor. She discovered NSNG and LCHF, resulting in a gradual but steady weight loss of 50 pounds in the first year, 60 in the second, and 12 in the third. The pandemic year saw a temporary setback with a 44-pound gain.
In her sixth year, Meagan's focus shifted to the mental aspect. She revamped her mindset, monitored her diet carefully, and embraced fasting. Her dietary preferences leaned towards carnivore, but her life expanded beyond food, incorporating outdoor activities like walking, running, spinning, and swimming.
Setting a goal to complete a triathlon after losing 150 pounds, she achieved it with guidance from Vinnie Tortorich. Today, Meagan has reversed Type 2 Diabetes, high blood pressure, high cholesterol, and GERD. Food no longer controls her life, and she's thriving in her 50s, eager for what lies ahead. Her journey is truly inspiring.
Join us to hear about her experience firsthand during our weekly group session on 9/26 at 5:30 PM EDT, where Meagan will share her incredible journey.