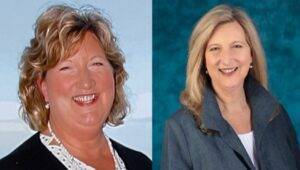 Name? Dee H
Age? 52 years old
Where do you live?  St. Joseph, MI (a little town on Lake Michigan)
Profession?  Fundraiser for local Boys & Girls Clubs
Diet/weight history?  First diet – age 8. I was a low fat devotee. Through high school and college I was always either dieting or eating junk. (Did a little Herbalife and almost put myself in the hospital.) As a high school athlete I was always told to cut 10 pounds, no matter my weight. Felt like I was always starving and always hurting. In adulthood I did my own low fat diet for quite a while — 1500 calories a day and 15g of fat a day. Plus, I was exercising for 2-3 hours a day (the days of being single).  I got down to 138 pounds on my 5'11" frame. Then the stresses came: marriage, homes, child, bad jobs, no jobs – the good and bad of life. My weight spiked when I went on an anti-depressant (in addition to the stress that led to the prescription) — from 140 to 210 in about 3 months and I never got it back under control until now. I did a several cycles of Weight Watchers, and even worked for them for a bit. I tried one cycle of low carb, and I liked it but believed it could be a heart hazard. Finally in 2020 I topped out at 318 pounds, had high blood pressure and joint pain to the point I could barely walk. I was miserable. Started keto and really trusted the science this time.
Successes achieved on low carb?  Have lost 106 pounds, blood pressure under control and meds gone, joint pain gone – most of the time – my knees still act up occasionally. My mood, energy, happiness are all really good!
How long have you been low carb?  January 2021, 14 months
Why did you start low carb?  Actually to support my husband, who had just been diagnosed with Type 1 or 2 diabetes (his numbers were so bad the doc wasn't sure). I immediately put us both on keto. I was in the process of giving up sugar and had just started down the keto rabbit hole on YouTube, FB and with podcasts. (Thank you Low Carb MD, Dr. Jason Fung, and Dr. Sarah Hallberg – even Dr. Berg, Maria Emmerich and Thomas DeLauer have been good motivation.)
How did you start?  I started us both cold turkey – no cheats at all – I did allow us to eat as much as we wanted whenever we wanted — just protein and fats.  We went through a lot of cheese and salami and were shocked to rediscover steak.  We got a Soda Stream for my husband and a lot of almonds for me, but no sugar or carbs period.  We committed to two years.  Whatever happened we were going to give it two years. Now we are just keto for life! He's no longer diabetic and off any of the meds they initially gave him – he was type 2 and was high enough they prescribed insulin after his initial appointment.  He asked for a week and turned it all around.  Never even picked up the insulin.  He's down close to 100 pounds too!
How has keto changed for you over this time?  I've started intermittent fasting – really just 18:6 – I try OMAD or a 42 hour fast occasionally, but it's a struggle. I'm pretty much carnivore at this time. I go through some salad phases, but am much happier with just meat, eggs and a little cheese.  Once in a while yogurt.  Fortunately most of the store bought "keto snacks" make me really, really sick so I can't cheat that way. I've recently stopped snacking. For about one week – it's awesome and I hope a game changer.  I've been moving down really slowly since December. 2021.
What do you struggle with?  Almonds, Lily's. Snacking – that's why I felt I had to give it up.  I can still have a treat, but I really plan it.
What do you love about low carb?  Being able to lose weight without starving through it. The surprise benefits of no joint pain, no brain fog, great mood and energy. I've never felt this healthy!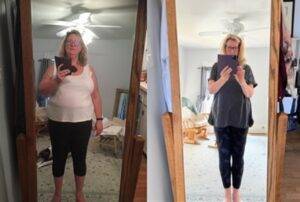 Top tip?  Keep modifying to find what works best for you. And, really, if you can avoid it – don't cheat. It takes days to get back to it – or longer. Totally not worth it.
Advice for people just starting out?  Eat until you are full and never let yourself get hungry. And – electrolytes every day.  Especially when starting.
Favorite low carb meal on the go?  Culver's Butter Burger – extra cheese 😉
Favorite low carb meal to cook? Chicken parmesan (in the air fryer, coated with egg, almond flour, parmesan and Italian seasoning/ with Prego Farmer's Market sauce and Mozzarella Cheese
Favorite holiday/special occasion recipe?  I am still trying to perfect Keto Chocolate Chip Cookies – I'll let you know if I get it.
Favorite inspirational quote:  I have two mantras  "I'm not doing this twice. This is how I eat." and "Whatever I do today, I want to be sticking with at 90 years old."
Anything else you want us to know about you?  It's been a really long, really frustrating and sad road. But today I'm so excited to find and understand to the best of my ability, something that works for me. Two years will pass and keto will just be how I (and my now-healthy husband) eat.