Name: Gregg Schenck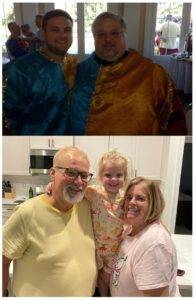 Age: 56
Where do you live?  Ponchatoula, LA – home of the Louisiana Strawberry Festival. Approximately 50 miles northwest of New Orleans.
Profession? Oracle ERP Analyst / Developer
Diet/weight history: My weight history can somewhat be described as a series of plateaus and failures.  When I was a child, my parents were concerned about my weight because I used to wear "slims" and they thought I was too skinny for my age/size. They took me to a physician who said I was healthy and no concerns. About the time I entered the 7th grade, I started gaining weight, but never thought about it. By the time I graduated from high school I had gained weight to where I was in a size 42 or 44 pants. I then tried the Atkins diet for about 6 months and lost about 40 pounds until I hit a plateau. Being discouraged, I started eating carbs again. When I was in my very early 30s, I gained back all that weight plus more and started tipping the scale around 290 lbs. After I had started work with my present employer, I discovered they offered "Weight Watchers At Work" sessions with the "Points System." I joined that program and lost 75 lbs. when I hit a plateau that I just could not break — I eventually quit and gained weight.  When Hurricane Katrina hit in August 2005, it took a lot of out me with the loss of my home. I became very depressed living in a 26 foot camping trailer for 11 months, dealing with FEMA (a four-letter word for sure) and flood and homeowners insurance issues. I ate my way up to 365 lbs. and a size 54 pants that was getting uncomfortable to wear. My employer opened a health and fitness center on our campus and I signed up for it, and I started working with the dietician who assisted me in meal planning, exercise, and strategies to help me lose the weight using calorie restriction. The goal was to stay at or below 1200 calories per day. I lost 115 lbs. in one year. In July 2015, I went on a cruise to Alaska and it really is true that you board as a passenger and disembark as cargo. I blew my diet, gained 8 pounds and never went back to calorie restriction. My weight slowly gained back up to 321 lbs.  Last year I got an email from my HR department of a weight loss program with Dr. Tro and I wanted to try this weight loss thing again as I see this as a never ending commitment to myself. I have to say, this program is a game changer and I only wish I had known the truth about carbs in high school and beyond.
Success achieved on low carb? A low carb diet has been a true life-changing experience! My A1C has gone from 6.9 to 5.4, my blood pressure has lowered, and I've lost 70 lbs. so far this year. I have also been able to get off some medications. All of this with no hunger or cravings – a first for sure!
How long have you been low carb?  I started on January 2, 2022.
Why did you start low carb? I started low carb because of health concerns having lost my dad four years ago after a cardiac event.  I also am a first time grandfather and I want to be able to do things with my granddaughter Emma (she really is the sweetest). We are planning a trip to Walt Disney World in January 2023 and I'm very excited to be able to experience the parks in a slimmer me!
How did you start? I started when my employer was offering a pilot group of 12 employees to work with Dr. Tro in a weight loss program. I read all the material and information available in the app and started on my own before meeting with Dr. Tro and his team.
How has keto changed for you over this time? When I first started this program, I was very skeptical on how I could last on a diet with 30 or less carbs.  Everywhere you turn, foods rich in carbs are around us.  However, after being very strict on myself, I came to see that this lifestyle was indeed easy to get into and stay on. I no longer crave foods or fight hunger because of this lifestyle change.  I don't see myself ever going back to my old eating habits.
What do you struggle with? I struggle with staying busy and out of the kitchen / pantry.  I have also been trying to find new low carb meal ideas to keep dinner-time interesting.
What do you love about low carb?  I love low carb because of the way it controls my hunger and cravings. I often find that I can go a very long time before I get hungry and must stop and eat. It makes intermittent fasting a breeze.
Top Tip?  Never give up no matter what the scale says – stay the course!  You will eventually see the benefits of your determination and hard work. As Dr. Tro has told me numerous times… don't let anyone take this from you.
Advice for people just starting out?  Reach out for help. You are not alone.  Everyone here in this group is on the same road as you. They can help you navigate the potholes and smooth out the journey.
Favorite low-carb meal on the go?  Stop at fast food place and order two patties, side salad and an unsweet iced tea. Sure, they look at you strange for not wanting the bun, but it is ok.
Favorite low carb meal to cook? My wife is the real cook in the house, and she looks up all kinds of low carb recipes – I am blessed to have her and the support she gives me.  I enjoy cooking burgers, chicken, steak, and veggies on the grill. I have a Weber smoker, but I have not been able to perfect the technique yet. Too many vents to keep adjusting for the temperature! Tips anyone?
Favorite inspirational quote:  This quote came from my priest Fr. Mark Beard.  He said, "You don't have to win the race, but you dang well need to finish it. You wanna have a pity party – fine then have it!  You done with it? Great! Now get your head back in the game and finish the race. Finish what you started. You must persevere."  He was referring to your spirituality, but I think that anything you face in life, one has to persevere in order to succeed at whatever goals you are working towards. NEVER GIVE UP. Ben Franklin said "Perseverance is the amount of work you do after your tired of doing the work you just finished."
Anything else you want us to know about you? I tend to be a very impatient person and with most things, especially weight loss, it is a slow process.  I am learning, especially with all the "supply chain" issues to wait until whatever I want happens.