First name: Julie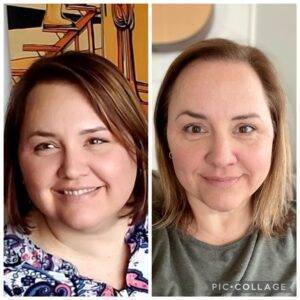 Age: 49
Where do you live? Bellingham, Washington
Profession? Special Education Teacher (middle school for students with learning and behavioral disabilities)
Diet/weight history? High fat carnivore (current); grew up in a unstable home environment; parents fed us vegetarian diet and restricted how much we were allowed to eat; competitive swimmer until age 18 when I quit against my parents' wishes; spent childhood swimming 6 days weekly plus 3 days weekly of weights and multiple swim meets per year; experienced the death of two neighbors on our street through suicide; struggled with weight since early 20's; infertility issues (PCOS); used Clomid, had IUI, surgery before becoming pregnant; first child born at 35 weeks, 2nd at 37 weeks; pre-eclampsia with both pregnancies; diagnosed with heart condition (Long QT) at 39; diagnosed with PTSD due to childhood abuse at age 39; high stress job… throughout this time my weight went up and down (a little) before skyrocketing to an all-time high (see my before picture) in 2018 to 251 lbs.
Successes achieved on low carb? Lowered blood pressure, lowered glucose, lost over 50 pounds, improved sleep quality, improved mood, decreased anxiety, increased energy (a lot), eliminated acne, eliminated skin tags, decreased/eliminated melasma, improved digestion, eliminated migraines!
How long have you been low carb? 3.5 years
Why did you start low carb? Weight loss and health
How did you start? Keto diet (20g net carbs per day or less)
How has keto changed for you over this time? I went from Keto to LCHF to Carnivore to P:E diet to high fat carnivore
What do you struggle with? I still struggle with occasional cravings for carbs
What do you love about low carb? I love the simplicity of the diet and how it makes me feel good!
Top tip? I have so many! If I have to narrow it down I'd say eliminate all processed foods to increase your chances for success!
Advice for people just starting out? See above! Also, make sure you get enough rest because this helps you to stay in control and reduces cravings. Also, I like the advice I learned listening to Dr. Robert Cywes in that it's helpful to create an "emotional management system." For example, he uses black coffee to sip (zero calories and he likes it) while he's working. It helps eliminate the desire to snack. I use this all the time while at work and home.
Favorite low-carb meal on the go? Ground beef with salt and butter!
Favorite low-carb meal to cook? Grilled steak!
Favorite holiday/special occasion recipe? Cheeseburger casserole… it's my son's favorite carnivore meal!
Favorite inspirational quote: "Never, never, never give up!" (Winston Churchill)
Anything else you want us to know about you? I have 50 more pounds to lose and it doesn't seem to want to budge, but I never give up trying to improve my health, so I study, listen, and read what all the experts say and ask millions of questions. 🙂