First name: Lauren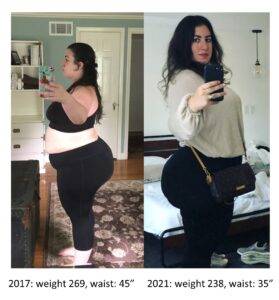 Age: 35
Where do you live? Niskayuna, NY
Profession? CPA
Diet/weight history? I've always loved food and have had an appetite. I was never skinny, but was always very active, played sports, and would not have been considered fat. I wore a size 8/ 12 in high school. In college despite being a competitive athlete (racquetball) I gained weight drinking and eating poorly and my mom suggested I take Stackers (a diet pill with ephedrine) and I shed the weight quickly. I graduated college weighing 135 lbs. and looked and felt great until I started my first job where was working 100 hours a week and I gained around 90 lbs. (2007/2008).  I was told I was hypothyroid and had PCOS at that time. I have never been able to get under 200 lbs. since, despite intense exercise (P90X, Crossfit, racquetball) and calorie counting (at the guidance of nutritionists). I had a wonderful pregnancy in 2015 where I gained under 10 lbs., weighing 235 when my daughter was born. I struggled with severe post partum depression and managing my new life as a working CPA, mom, and wife and reached a high of 269 lbs. in 2017. At some point my endocrinologist said I was prediabetic, and my dad was diagnosed with Type 2 diabetes and I knew I had to make a change. I decided to resign from my public accounting firm (tough decision as I was a few years from being made partner) and took a part-time job close to home to focus on working out and find a better balance. Within a few months of starting my new job, I was lifting weights everyday, and found keto and fasting, and lost 30 lbs. quite quickly. In 2018-2020, however, I took on an additional job, stopped going to the gym, ate somewhat poorly and gained it all back. After stepping on the scale in February 2021, I recommitted to this way of life (knowing it works!) and am down to 242 as of today!
Successes achieved on low carb? Decreased hunger, more mindful eating, weight loss, much easier meal prep (especially when combined with skipping a meal), A1C decreased from 5.5 to 5.0, waist circumference went from 45″ in 2018 to 35″ this summer!
How long have you been low carb? I tried the ketogenic diet using whole foods and lots of cooking 2017/2018 and lost 33 pounds! I know it works! I gained it all back when I took on too much of a workload for a few years (I'm a workaholic) and restarted this way of life again in February 2021. I have been quite strict since February 2021.
Why did you start low carb? At some point my endocrinologist said I was prediabetic, and my dad was diagnosed with T2 diabietes and I knew I had to make a change. I remember sitting in my living room one day and I Googled "how to cure diabetes naturally." That brought me to Dr. Fung's book The Diabetes Code. It was tough to read and hear all the damage I had done to my body without even knowing, following normal dietary guidelines, but it was empowering to know change was within my control.
How did you start? Just started cooking!
How has keto changed for you over this time? I always focused on cooking real, whole foods predominantly, but I think in order to shed the weight I have to focus on proteins and not eat too much fat (or carbs of course).
What do you struggle with? I think eating too much fat is inhibiting my weight loss. I haven't quite come to terms with that yet, as a low carb-er we have given up so much and I struggle enjoying foods that are low fat — I have to enjoy what I am eating! I also have low muscle mass and mobility issues (from years of inactivity due to post partum depression and several ankle and knee injuries and surgery) and I know increasing my muscle mass is key, but I struggle to just GET GOING with it. I also have PCOS and Hashimotos Thyroiditis which makes losing weight even harder! I also struggle with those in my household who don't abide by my new way of life. My husband is very fit and can still eats carbs and foods that are not on my plan, and it is very challenging to be around those foods. Overall, lifestyle changes have occurred other than food and that can be a challenge for my marriage. I don't want to sit and watch TV, I'd rather read a book or go for a walk, I don't want to snack and pig out anymore, these are all changes within the marriage that I didn't anticipate, when so much of our identity revolved around food, bingeing, snacking, and unhealthy choices!
What do you love about low carb? It allows me to eat mainly meats/proteins which is all my body every wanted anyway 🙂 It's a win!
Top tip? Two tips for success … 1) no snacking 2) forget your sweet tooth
Advice for people just starting out? You have to cook in order to be successful long term. The sooner you accept this fact the easier the transition will be. You also have to learn to be selfish! Put your needs during this time above others. It is hard, but saying no is powerful! You might have to say no to that party that has too many temptations, or going out to dinner to your favorite place, or might have to say no to the needs of a loved one so you can cook a nourishing meal or go to bed earlier. It is okay to put yourself first, and hopefully you will be a role model for those you love to choose things that make themselves healthier.
Favorite low-carb meal on the go? Sub in a Tub from Jersey Mike's and I LOVE Texas de Brazil for a special occasion
Favorite low-carb meal to cook? Chuck roast braised in my Dutch oven with cinnamon, cardamom, coriander, and red wine
Favorite holiday/special occasion recipe? Duck confit, prime rib, pumpkin cheesecake, almond butter crunch, cashew caramels
Favorite inspirational quote: "Discipline is choosing between what you want now and what you want most" Abraham Lincoln
Anything else you want us to know about you? I have other goals too aside from weight loss! I have had some injuries, recently had ankle surgery, and have reduced mobility and just last week found an integrative physical therapist who will work on my knee and ankle and hopefully get me more mobile. My company recently installed a small gym, and I've been twice now, so I am going to get stronger soon enough! I hope to get back to pickleball (so fun if you haven't tried it yet!) and fun activities like ice skating and hiking. I am also a huge crafter, but crafting too much often causes a huge stall in progress, so I hope to find a balance with that some day.