Join our community to interact with Shannon and others who are pursuing their weight loss journey's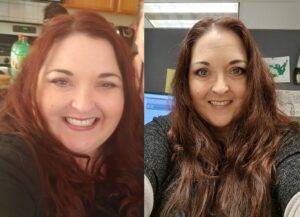 First name: Shannon
Age: 51
Where do you live? New Orleans area
Profession? Customer Service
Diet/weight history? I've done it all, and have gained, lost and gained back 75+ pounds three times in my life. In my early 20s I gained about 75 pounds and lost it on Weight Watchers ("lifetime member" at goal weight that lasted until my first pregnancy.) Gained all of that back plus some over the course of two pregnancies/babies in less than 3 years. Spent years doing the yo-yo thing on Weight Watchers, on and off gym memberships, cabbage soup diets, doctors that gave me shots every week and super low calorie diets. Then I lost 80 pounds between 2017-2018ish doing lower carb and intense exercise regimes. I gained half of those 80 pounds back in 2019 to early 2020. Once COVID shutdowns started, over the rest of 2020 I gained back the other half of those 80 pounds and ended up right back where I started.
Successes achieved on low carb? I started with Dr. Tro in January. I'm down 37 pounds from November of 2021 with lower carbs in November and December before going stricter keto in January. My official number since starting the program is less than that, but on low carb I'm down 37. With very little exercise.
How long have you been low carb? In the fall of 2021 I started cutting back on carbs, but wasn't fully low carb until January this year. I haven't had carbs (other than the small amounts in some vegetables) since the end of December.
Why did you start low carb? My mother and grandmother both lost their life to diabetes, and my mother lost both legs and part of her right hand before it took her life. My A1C was at the high end of the pre-diabetic range. I knew I needed to take control of my health and my blood sugar or I was on the same path.
How did you start? I saw signs and emails promoting Dr. Tro's program at work and thought it may be what I needed to really take control of my health.
How has keto changed for you over this time? I've cut back on some of the carb replacement options that I leaned on more heavily at the beginning. (NOT that I don't still use some of them – I used Quest chips just last night for nachos when the rest of the family had nachos). But early in the program I ate more of the replacement foods that mimicked higher carb foods I was eating before. As time went on the cravings and desire for those foods went down and I rely on them far less. (But not never! Rosette's cakes and cookies are awesome, and I still make them! I kind of like the Halo and Rebel keto ice creams too.) Adding fasting has helped even more with that.
What do you struggle with? Fitting in time for exercise. I've done a little, but know my results would be even better if I added in more. (I'm getting 30 minutes to an hour twice a week right now.)
What do you love about low carb? I feel better! Swelling/bloating has gone away. My primary care and health coach nurse through my primary care pushed 'limit salt' every time I mentioned the fluid buildup/swelling in my ankles and legs. Nothing I did made that go away. Two weeks of low carb/keto and I haven't had the swelling and bloating at ALL since then and my salt intake has gone up (side note, my blood pressure has dropped despite the increased salt intake.)
Top tip? There are still ups and downs, don't get discouraged when you hit a plateau (I've been stuck for three weeks bouncing up and down with the same 4 pounds) but I know to keep at it, and that it works. Also, use the replacement foods, keep them stocked and accessible in order to not deviate. I haven't 'cheated' once since I started. Never have I stuck with a plan without any "cheat days" … and I haven't felt deprived or like I'm missing out. Which surprised me. I thought it would be a lot harder.
Advice for people just starting out? Research, read all the tools in the app. Be prepared. Before I go to any restaurant I search their menu, review the restaurant suggestions in the app and find things I can order and stay within plan. Rely on the app and community for help. And there are a ton of recipes out there for adapting almost anything you really want to eat to a keto recipe of some sort. Research and read.
Favorite low-carb meal on the go? High protein – if it needs to be a drive thru, there are tons of options. Bunless burgers are so easy, though harder to eat while driving than a burger with a bun. For packing something to bring with you for an easy to grab meal, I love to make a container of deli meat, cheese, grape tomatoes, and those mini peppers de-seeded and cut in half (they make a good "cracker" for the cheese and turkey). Like a grown up, low carb "Lunchables".
Favorite low-carb meal to cook? There are so many. Grilled steak or salmon is a favorite. The favorite that was a big surprise for me was Shrimp and "Grits". I found a recipe for cauliflower and hemp seed "grits". Cauliflower "rice" doesn't feel like rice to me and isn't a satisfying replacement. But the grits (just cauliflower through a little food processer, cooked down with hemp seeds) has the grits texture. Two (non-keto) family members tasted it and didn't realize it wasn't real grits and liked it. I've made this several times and it is so good, and quick & easy to make.
Favorite holiday/special occasion recipe? For Mother's Day I made a "Chantilly Cake" using Rosette's yellow cake mix, a cream cheese frosting I made with Swerve powdered sugar and berries. Again, everyone in the house loved it and it felt special.
Favorite inspirational quote: "If you hear a voice within you say 'You cannot paint,' then by all means paint and that voice will be silenced. " (Vincent Van Gogh) To me, this reminds me to not be discouraged, don't give up and if I want to do something, just do it and I can … and related to keto I used to hear the word "Keto" and think "I can't do that, that is too restrictive and too hard". I took the leap in January and the voice telling me I can't do keto was silenced.