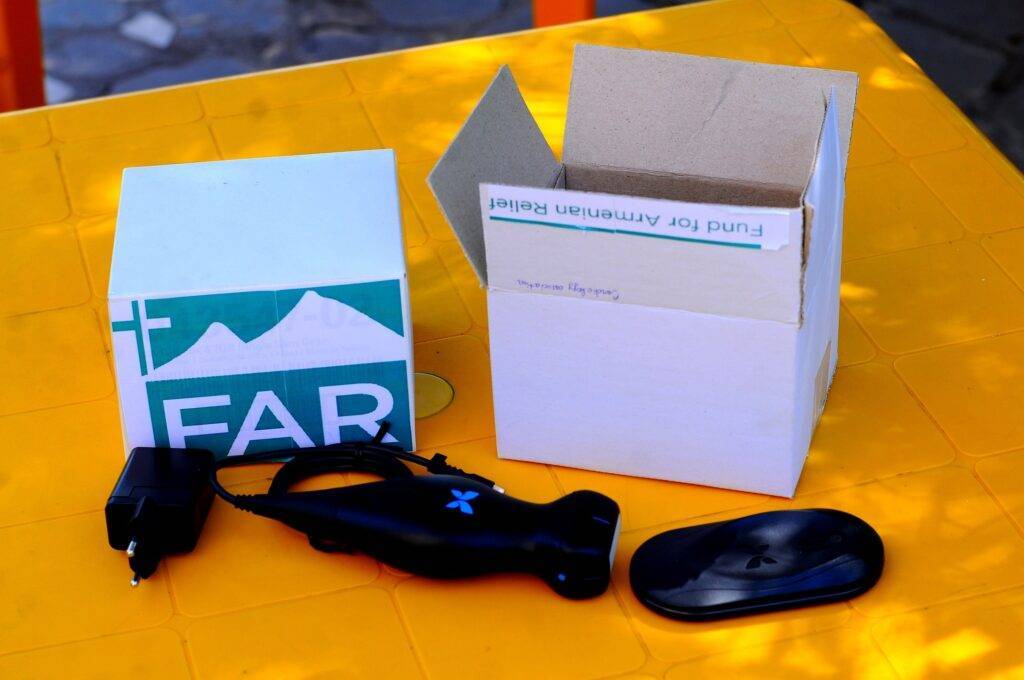 A near catastrophic medical event involving the father of physician Dr. Tro Kalayjian has led to the donation of two potentially lifesaving handheld portable ultrasound machines to the Association of Cardiologists of Armenia and the Republican Medical Center of Artsakh.
The donation is the result of a collaboration between Friends of Armenia (FAR) supporter Dr. Gevorg Yaghjian, his good friend Dr. Tro Kalayjian, and the Butterfly Network, Inc.
The donated Butterfly iQ handheld devices connect to a smartphone and provide a complete diagnostic imaging solution that is both portable, easy to use, and 10 times less expensive than traditional systems.
The story leading to this donation began when Dr. Tro Kalayjian's father Kevork Kalayjian experienced shortness of breath and discomfort during his granddaughter's birthday party on December 26, 2018.
"I was short of breath and my son didn't want the guests to be scared, so he laid me down in the bedroom," said Kevork Kalayjian. "He took out this ultrasound machine that he had just purchased from Butterfly, and it turned out that both of my coronary arteries were blocked."
Dr. Kalayjian sent the echocardiogram he took via his smartphone app to his father's doctors. "I literally texted it to his cardiologist and his primary care doctor," Kalayjian said. "His doctors decided an emergency catheterization was required."
According to Dr. Kalayjian, his father had a 99 percent blockage in the left anterior descending artery, which supplies blood to the front and bottom of the left ventricle. "That's the main supply of blood to the body," said Dr. Kalayjian. "If it's blocked, usually it's a big heart attack (known as a widow maker)."
After the incident went viral on social media, Butterfly Network reached out to Dr. and Kevork Kalayjian. They ultimately collaborated to produce a short documentary of the event and now to donate two of these amazing devices for humanitarian use. "We decided to give them to Armenia," said Kevork Kalayjian.
FAR's Hambardzum Simonyan stressed the importance of the donation, noting it will not only help specific physicians but also emergency and family doctors in the diagnosis of patients in the field and enroute to hospital.
"We are also planning to hold field-based trainings for doctors to effectively use this ultrasound machine and share their knowledge with colleagues," Simonyan said, highlighting the importance of the Republican Medical Library's role in creating a channel between these two parties.
Butterfly Network is a digital health company whose mission is to democratize healthcare by making medical imaging universally accessible and affordable. Currently, 4.7 billion people around the world do not have access to this essential technology.