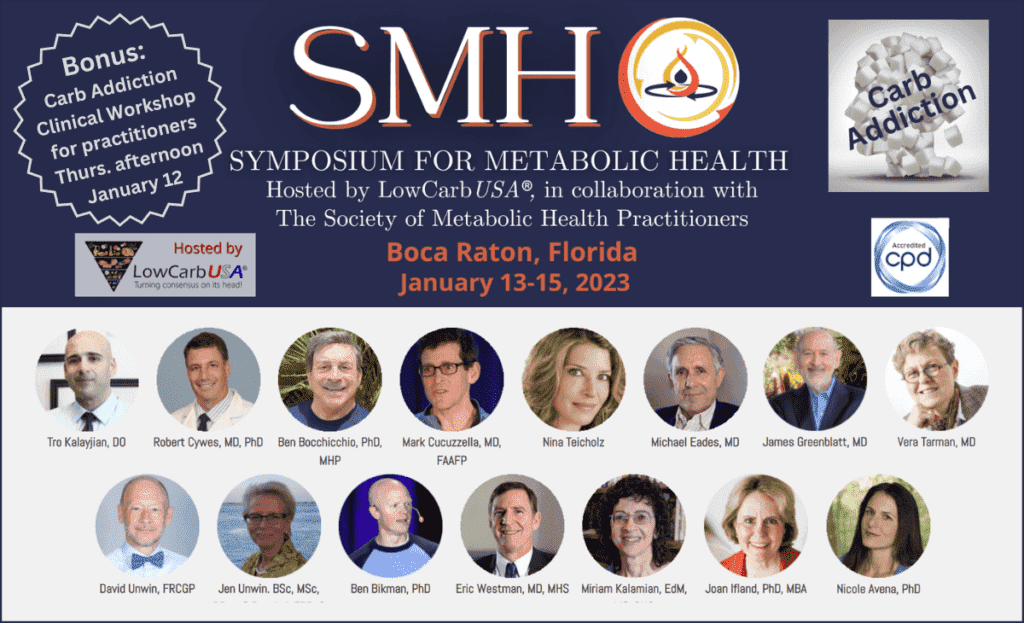 One of the key hallmarks of this years Symposium for Metabolic Health (SMHP) in Boca is getting together all the minds in the food addiction and metabolic psychiatry field.
Dr. Tro Kalayjian, a board-certified obesity medicine physician and founding member of the Society of Metabolic Practitioners, and Amy Eiges, certified health coach and program director, have together organized a first of its kind food addiction component at the conference. A clinical workshop will be held on Thursday, January 12 prior to the main presentations alongside preeminent experts in their field. Notably, this is the first time a conference will dedicate one and a half days (half-day Thursday and full-day Friday) to the ever critical topic of food addiction.
For those interested in learning more about food addiction, the workshop is the perfect opportunity to dig deeper in to the topic for three hours of micro lectures which will include handouts, Q&As and more. The goal is to help expose other doctors, trainers, dietitians and practitioners how to implement the basics of what is needed to address the food addicted-patient population. Doug Reynolds, President of the SMHP, notes "If we want people to succeed, we have to learn how to deal with their addiction and in that way help them to be successful in adopting this lifestyle."
Amy Eiges will give a talk on Top 10 Things NEVER to Say to a Patient with Food Addiction or Obesity, which will shed light on the patient perspective. "I have experience with clinicians telling me all the wrong things. Once I found the right clinician(s) for me, I went on to lose over 220 lbs. We are missing the bigger picture. Getting rid of carbs will help you get far, but there are so many people we see in clinic that have their nutrition down, they are low carb, they get it…and yet they are still struggling. Helping people heal their relationship to food is as important as what that food is. This piece is missing from so much of the information out there, and i am excited to help clinicians understand that."
Dr. Tro will be giving a full lecture on food addiction on Friday, January 13, in addition to the workshop, where he will discuss the diagnostic tools required to help these patients who are disenfranchised and need help. "There is a lot of emotion involved. How do we get it out of them and build that trust and rapport? We'll be talking about the various diagnostic tools you can use to get a better sense of what is going on with your patients."
Dr. Tro goes on to emphasize "As the SMHP grows, we need to train doctors on how to implement these tools. We can reach clinicians, dietitians, health coaches…you don't need to be a physician to help people. You can help people every day independently or through an organization. How do we start to think about binge eating? About food addiction? And importantly, how we cater to these people. People with obesity are a vulnerable population but people with food addiction are even more vulnerable because they are hopeless, they blame themselves, riddled with shame and guilt along with a lot of emotional and psychological factors. If we can get doctors just thinking about the different ways they can better assess, diagnose and treat patients, we'll be in a better place. I am very passionate about this and the workshop is only the tip of the iceberg."
Friday's lineup is filled with powerful presentations, shorter talks and panels about food addiction from leading experts in the field: Robert Cywes, MD, PhD; David Unwin, FRCGP; Jen Unwin. BSc, MSc, DPsy, C Psychol, FBPsS; Dr. Tro Kalayjian, DO, Joan Ifland, PhD, MBA; Dr. Nicole Avena; and James Greenblatt, MD.
To learn more about the Symposium for Metabolic Health – Boca (January 12-15) and to register, visit the event page.