Dr. Tro's Medical Weight Loss Announces Poster Presentation at the Symposium for Metabolic Health – Boca '23
Dr. Tro's Medical Weight Loss and Virtual Primary Care, a nationwide metabolic health practice focused on reversing type 2 diabetes, obesity and food addiction, is conducting a poster presentation at the Symposium for Metabolic Health – Boca '23, taking place January 12-15 in Boca Raton, Florida and online via live streaming. The medical poster highlights how employee health improved substantially when an independently insured manufacturing company pursued a carbohydrate restriction program for its employees.
Dr. Kalayjian, a board-certified obesity medicine physician and founding member of the Society of Metabolic Practitioners, stated, "We are so honored to be at this years conference where food addiction is taking center stage. We kicked off the conference with a clinical workshop on food addiction on Thursday alongside experts in the field, I had the honor to give a talk on the Clinical Approach to Food Addiction to make resources available to physicians, and my colleague and esteemed Health Coach, Amy Eiges, gave an eye-opening talk on Top 10 Things NEVER to Say to a Patient with Food Addiction or Obesity." 
Dr. Kalayjian went on to share that "the medical poster we are so proud to present at the conference reports on the updated outcomes and cost savings of our 6-Month Metabolic Health Management Pilot Program. The data speaks for itself. It provides evidence that investment in employee metabolic health by private industry can result in significant improvements in the health of those employees. This is only the beginning."
Poster Presentation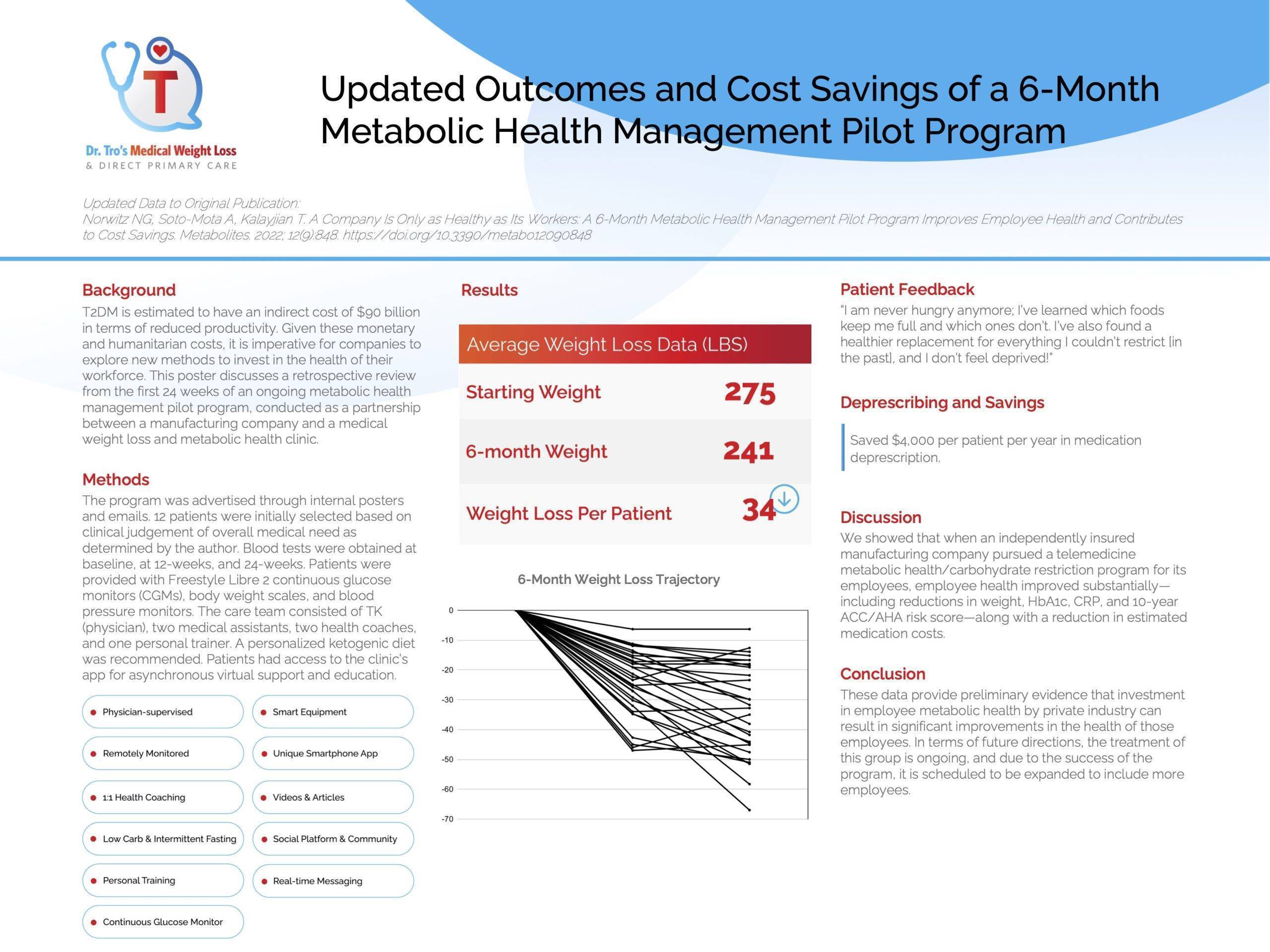 We would like to thank Dr. Matt Caulkins, MD and Dr. Laura Buchanan, MD for their help with this poster.
Contact Information
Amy Eiges
Program Director and Health Coach
amy@doctortro.com