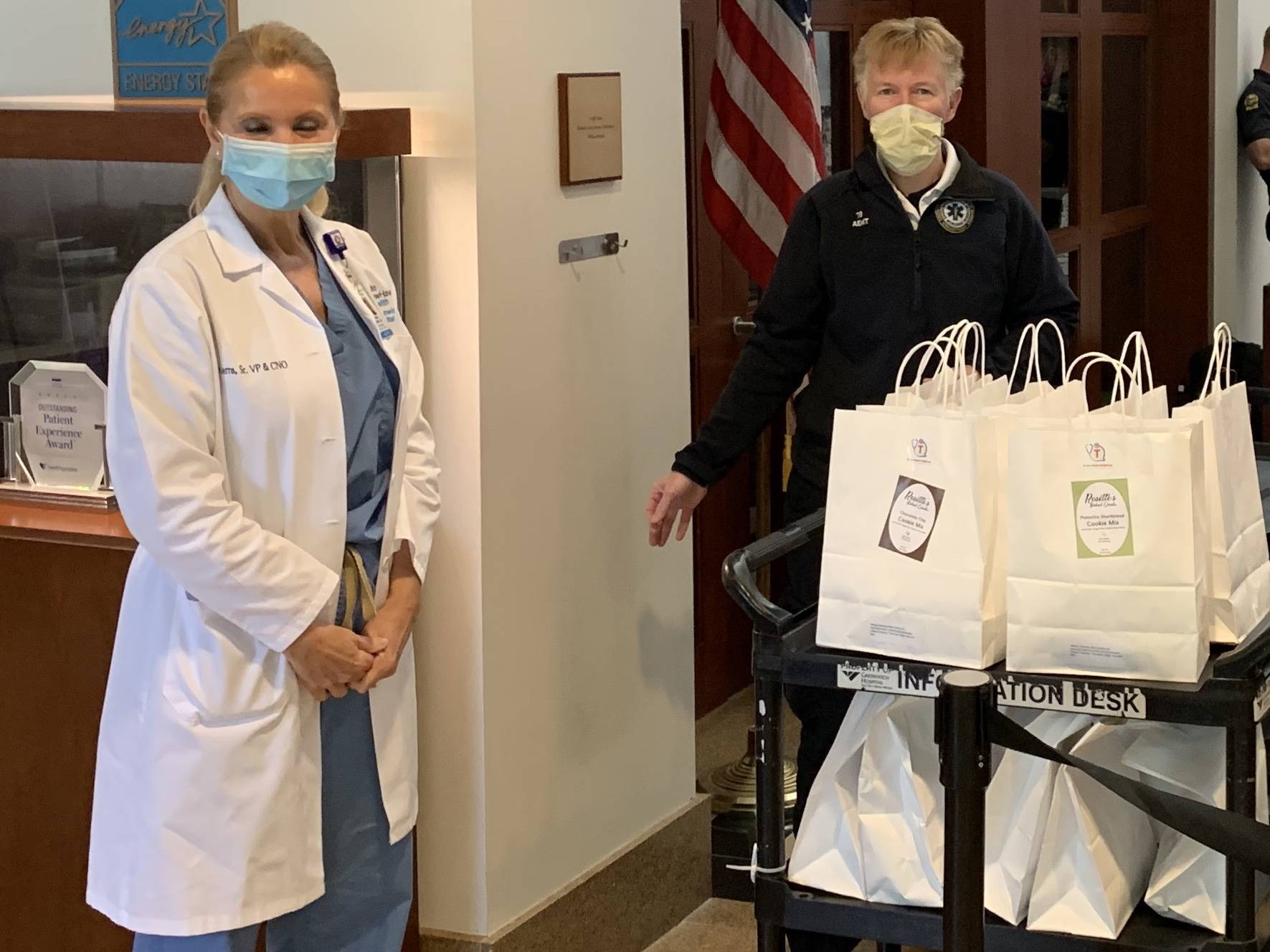 Today at Yale New Haven Health Greenwich Hospital, front-line health care workers received a healthy and delicious gift of keto-friendly, low-carb, sugar-free cookies from Rosette's Baked Goods to help lift spirits as they continue to stand up to the challenges posed by the coronavirus.
The individually wrapped cookies were donated by Rosette Kalayjian, founder of Rosette's Baked Goods, and her husband Tro Kalayjian, a board certified Internal Medicine & Obesity Medicine Physician.
"We wanted to show our appreciation for the sacrifices these health care heroes are making to protect patients and help get us through these extremely difficult times," said Rosette Kalayjian. "We thought with all the donuts and pizza being donated to hospitals over the past two months, that a low-carb, sugar-free alternative would be a welcome treat for those not wanting to spike their glucose levels."
As a physician who struggled to lose weight for years, Tro Kalayjian knows firsthand the importance of having access to food that does not sabotage one's goals. Just five years ago, Tro weighed 350 pounds, and he had prediabetes, sleep apnea, hypertension & joint pains. After losing 150 pounds through a low-carb diet and intermittent fasting, he sustainably lost 150 pounds.
"I have spent plenty of time in hospitals when the lounges were filled with donuts and bagels, and other high-sugar, processed foods," said Kalayjian. "We thought there would an interest in something that tasted great, but wouldn't spike their blood sugar."
Greenwich hospital is a huge part of the Kalayjian family story. Tro did residency there, and the hospital became their home away from home, according to Rosette. "We would have late night dinners in the cafeteria, and we spent a lot of time there over the years. All three of our children were born at Greenwich Hospital. We have very fond feelings for the people there."
Tro also recently had surgery at Greenwich Hospital.
Rosette's Baked Goods is a keto-friendly, low-carb, sugar-free baking mix brand run by Rosette and Natalie, two sisters / moms / wives who share a love for the enjoyment of food and its power in bringing people together. While our relationship with food can be quite the ride, we believe in the value of mindful, low-carb eating and have experienced the benefits first-hand.
Dr. Tro Kalayjian is a physician who is board certified in Obesity Medicine and Internal Medicine. Dr. Tro's Medical Weight Loss & Direct Primary Care is Rockland and Bergen County's premier medical weight loss facility, with a focus on helping patients make drastic changes through lifestyle interventions.