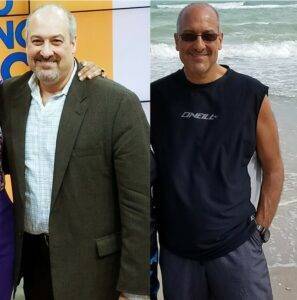 First name: Bob
Age: 58
Where do you live? Westchester County, NY
Profession? Corporate Security (current); retired Law Enforcement professional (~25yrs)
Diet/weight history? Pre-teen I was "chubby," the term used in the 1970's, especially at stores when they had clothes on display while shopping was "husky"; as a teenager I grew taller and thinned out, but still felt heavier than most (36-38" waist measurement). After my Dad had his first heart attack (late 1970's – subsequently he would have 2 more over the years and quadruple by-pass) we switched to margarine, low fat, low calorie, skim milk and no salt. I used to jog a lot and eat rice cakes. Went up and down in weight over the years and various levels of fitness.
In 1988/1989 I lost a lot of weight going strictly Atkins – I went down to about 155 lbs. but did not follow it much after about 2 years. Also tried Nutrisystem and Beachbody (Shakeology) shakes; eating several small meals throughout the day. At my heaviest I was 240 lbs. (wearing XXL shirts or 18" neck for dress shirts, 42" waist pants), suffering from metabolic syndrome, pre-diabetic, chronic Lyme disease (and several co-infections), high blood pressure, prostate cancer survivor (9/11 responder), reflux (G.E.R.D.). My doctor wanted me to take a statin and to lose weight. I refused the statin and she never told me how to lose weight but gave me some time to figure it out. I investigated a low carb/ketogenic lifestyle in the Winter 2016 and learned what I could for a few months before fully adopting the lifestyle March 2017 at 240 lbs.
Successes achieved on low carb? Sustained weight loss of ~80 lbs. (I vary from ~160 to 168 lbs.); off blood pressure and acid reflux (GERD) medication, off treatment for chronic Lyme disease and any co-infections. 13-year cancer survivor/thriver. Waist size ~34-36"; shirt size now a medium or large, dress shirts 15 1/2 or 16.
How long have you been low carb? March 2017, will be 4 years
Why did you start low carb? Lose weight, fix my acid reflux and regain my health.
How did you start? Introduced to the concept by reading a book called "Tools of Titans" by Tim Ferris. A common theme from different leaders around the world was a "ketogenic diet." Got curious and began investigating on YouTube, other online resources and books. After getting a good working knowledge about insulin, blood sugar, and food ingredients, we emptied our home refrigerator and pantry. Purchased all low carbohydrate foods and non-glycemic sweeteners.
How has keto changed for you over this time? Began with 3 meals a day, no snacking. Then, I was slowly able to do 2 meals a day by compressing my eating window between 9am and 1pm. Now I have an eating window from about 10am to 2pm, and fast the rest of the day. As I gradually reached the health and weight markers I wanted to achieve, I continued to monitor and adjust my fat intake to ensure I'm oxidizing body fat and not getting too much fat from the food I'm eating. I now eat intuitively, without the use of any food tracking apps.
What do you struggle with? Still slightly have that "taste" for a sweet dessert after a meal.
What do you love about low carb? I went from living to eat, to eating to live. Wholesome food and freedom from hunger are some of my big takeaways for this lifestyle.
Top tip? If you're attending a family function or other gathering and are unsure if there will be low carb or keto options for you – either eat at home before you go or bring food for yourself and/or your host. Always be your own best advocate.
Advice for people just starting? Learn how different food products and ingredients affect your blood glucose. Use a food and macro tracker app in the beginning to gauge your intake. If you want to "snack" have it right after your meal.
Favorite low-carb meal on the go? If I'm not fasting I really don't have a meal on the go but rather a low carb food "travel kit": nut butter packets, no sugar beef sticks, macadamia nuts and walnuts, olives and Redmond's real salt.
Favorite low-carb meal to cook? Steak on the grill and brown butter on top
Favorite holiday/special occasion recipe? Keto Sugar-Free Pecan Pie
Favorite inspirational quote: "I walk slowly, but I never walk backward." (Abraham Lincoln)
Anything else you want us to know about you? I'm a current member, and served as President for a number of years, of a local volunteer Lions Club for 16 years. One of our global causes is "Diabetes Awareness." In 2018 myself and another Lion, who also separately adopted a low carb ketogenic lifestyle, were asked by our District (Northern Westchester and Rockland Counties, NY) Leaders to become our area's Diabetes Awareness Chairpersons. We said yes only if we could do it our way by promoting a low carb and ketogenic Diabetes Awareness program. Leadership was enthralled with the idea so my partner and I launched the www.LionsFit4Life.org website and social media accounts. Since that time we've spoken at several local and District meetings, promoting the idea of low carb and ketogenic lifestyles, food as medicine, metabolic health and Type 2 Diabetes being put into "remission."