We are thrilled to announce Dr. Doug Gwinn will be the featured member at the Group Coaching Zoom meeting, Tuesday, February 9 at 5:30 pm EST. If you're interested in learning more about the Group Coaching program or signing up, you can do so here. For the month of February, the Group Coaching calls will talk about the science, strategies and challenges to fasting.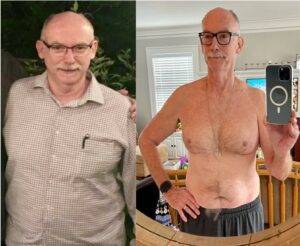 First Name: Doug
Age: 68
Where do you live? Tacoma, WA
Profession: Retired (8/2018). I was a Board Certified family physician, doing it all including delivering babies-the coolest thing on earth to do.
Diet/weight history? 6', now 5'11" — I was a fat kid, my college weight was 165 lbs, and my highest weight was 225 lbs. (8/2018). Current weight is between 170 and 175 lbs. Over the years I attempted calories in calories out, i.e. "cutting back," protein power, Weight Watchers twice, Whole 30, probably others.
Success achieved using a low-carb approach:
Off 28 years of antidepressant meds. Could never come off meds successfully in spite of
multiple tries. It all started with suicidal ideation when my first practice in Kansas City went bankrupt.
Pain from degenerative arthritis mostly in low back and neck essentially gone.
Great lipids without meds-after statins for 15 yrs (HDL from 22 to 47, triglycerides 400 to 59, LDL 152, Tri:HDL 1.26).
Pre-diabetes resolved (A1c 6.7 to 5.1)
Chronic kidney disease stage III (eGFR 48 cc/min) resolved
Hypertension: from three meds to only one med with excellent control
Resolution of elevated inflammatory markers (CRP, homocysteine) of unknown cause, likely from abdominal fat
50lb. weight loss, original goal, but not the best benefit
Miscellaneous: daily heartburn gone, tension headaches gone, brain fog and low energy gone, hay fever gone, and toenail fungus/skin tags/seborrheic keratoses-gone
How long have you been low carb? Since 10/2018. Eventually landed back at 205 lbs., and missed feeling good. January 2020 I restarted seriously, and February, 2020 started carnivore. Three weeks in the arthritis pain was gone.
Why did you start a low-carb diet? To lose weight, but I keep at it due to all the above benefits-especially brain and mental health. I remind myself every day.
How did you start? Our priest in Spokane, not my patient but a good friend, became a type 2 diabetic and put his diabetes into remission with keto. I discovered this in talking to him shortly after retiring. I thought it was just a fad diet, but was intrigued by the amazing result. He gave me some resources, sites, links, and I went crazy I got so excited about it. It made perfect sense physiologically, and I remember thinking, "I'm a doctor, how come I don't know about this?!"
How as your version of low carb changed over time? I was strict at first, checking urine ketones and eventually with a blood meter. I made it thru Thanksgiving with no carbs having been on it only about 6 weeks. I stuffed my face with bacon-it was glorious! Diet was Inconsistent in 2019 with selling house, moving across state, having to live with daughter for several months, and remodeling another house, did enough to still feel better, but regained weight back up to 205. I had also stopped stimulating my brain with low-carb information, something I learned was a big mistake. Somewhere in here I became a Jason Fung fan and added intermittent fasting. January 2020 I was not feeling at all good and disgusted that I had fallen away, so I recommitted seriously, and a month later started carnivore to see if I could get rid of my arthritis pain which had gotten better, but was still not great. In 3 weeks, pain was gone. So now keto-carnivore, all meats/fish-essentially no veg. I eat eggs, minimize dairy because when I eat cheese the pain comes back. Currently pushing protein (hey, my PCP is Ted Naiman, MD-how cool is that?), minimizing fat, and working to gain muscle/burn the remaining fat on me. Dr. Naiman says changing my body composition will take a year, maybe two years. "That remaining fat is stuck to you like glue."
What do you still struggle with?
Cravings. They are much improved but not gone. In my old life I once sat in the parking lot of Best Buy on a Sat morning waiting for it to open and downed 13 Krispy Kreme glazed doughnuts, the only time I have ever gotten my fill of doughnuts. I love croissants, doughnuts, candy-if it's sweet-I'll eat it and a lot, ice cream, and pizza. Cheddar cheese is a problem!
Consistent exercise, coming up with a plan to meet my goals that I don't hate doing.
Keeping mentally focused by reading, and listening to videos/podcasts-every day.
I was a doc, so I have OCD tendencies-that's what made me good. I am an all or nothing person-both a blessing and a curse!
What do you love about low carb? Being not hungry, cravings much better-but I can still at times without warning in a check-out line hear the Snickers bar calling my name; and freedom: not always thinking about what I shouldn't eat sitting in front of me so I don't gain weight. Now eating is fun, not a chore.
Top Tip? Support is key: other people, good info from books, speakers, podcasts for brain stimulation to keep you motivated. Never give up-keep going-you'll get there. When I get discouraged and don't want to do those exercises, I laugh and use it as motivation. I have done way harder things in my life-this is relatively easy. That is true for everybody!
Advice for newbies? Figure out how to suppress your appetite-the "Tro doctrine." Get the crap food out of your pantry including vegetable oils. Be informed, go slow, add intermittent fasting relatively early-it will probably come naturally. Have a lifeline. Don't be dogmatic-there are many ways to do low-carb so you have to find your way. Avoid absolutes and unnecessary dogma- "pick out the bones" so to speak, in what you learn.
Favorite On-the-go-meal? Burgers without the bun, or any meat especially steak
Favorite thing to cook? Instant pot Mississippi pot roast
Favorite holiday recipe? Creamed spinach (fresh spinach, cream cheese, heavy cream, garlic)
Favorite inspirational quote? "For I know the plans I have for you, declares the Lord, plans to prosper you and not to harm you-to give you hope and a future." (Jer 29:11). This verse was also on our wedding invitation, because my wife is my true soul-mate.
Anything else you want us to know about you? In my opinion, hope does not arise in a vacuum. For me, hope comes from faith in God, and in remembering his hand on my life thru all the twists and turns, failures, disappointments, and potential health disasters-all for a purpose and eventual good.
From a fat, shy kid who was bullied mercilessly for 3 years in junior high to where I am today. This includes some unique life experiences growing up-living in an all-Black neighborhood in the late 1950's segregated South, living in the Middle East for 5 years being evacuated one night on the deck of a freighter from Beirut, Lebanon while the city burned to Athens, Greece during the June 1967 6-day war, to how I became a doctor, how I met my wife, the pain of infertility to the amazing adoption of 2 fantastic girls, first practice bankruptcy leading to the best move of our lives; a prostate cancer survivor (age 52), surviving a devastating back surgery gone bad and a knee replacement complicated by multiple clots thrown to my lungs, and being forced out of my last medical practice because I would not conform to the "medical system/establishment" in which I was stuck.
I am an imperfect soul, struggling thru life-always, but at times-unknowingly, led by the hand of God. That is my hope in an uncertain time-remembering with gratitude. What's next?