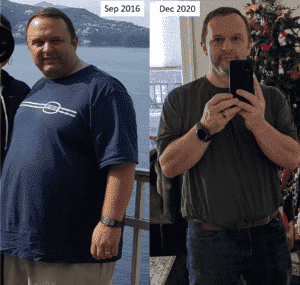 We are thrilled to announce Greg Ramsey will be the featured member at the Group Coaching Zoom meeting, Tuesday, January 26 at 5:30 pm EST. If you're interested in learning more about the Group Coaching program or signing up, you can do so here.
Name: Greg
Age: 47
Where do you live? Seattle, WA
Profession? I'm a computer guy — I work IT for Dell Technologies.
Diet/weight history? Up and occasionally down (but mostly up over the years). I've tried the food pyramid, My Fitness Pal, Health at Every Size and low carb a couple of times. I went pretty far down the path toward getting a gastric sleeve two years ago, but due to an insurance issue, decided to try a non-surgical approach. I also started exercising consistently in December 2019 with a Peloton.
Successes achieved on low carb? I've lost 95 lbs. since I started working with Dr. Tro and Brian.
How long have you been low carb? Since March 22, 2020
Why did you start low carb? To lose weight and get healthy!
How did you start? With Dr. Tro.
How has keto changed for you over this time? I don't actively track percentages, so I call it 'low carb,' but I think most use keto and low carb interchangeably (so it seems).
What do you struggle with? I eat too much cheese! I still have cravings, but I manage them.
What do you love about low carb? I don't have to track every single thing…
Top tip? Keep this effort at the top of mind, and accept that 'this is life' and not just another diet that you do for a while.
Advice for people just starting out? It's a marathon…well, longer than a marathon! Commit to a life change, and not just an interim diet.
Favorite low-carb meal on the go? Salami/jerky, or I just pick up some fast-food burgers.
Favorite low-carb meal to cook? So many, but if I had to pick one today, I would say Halibut in Acqua Pazza.
Favorite holiday/special occasion recipe? For Christmas, we had prime rib, asparagus, and cauliflower mash, and it was all pretty tasty.
Favorite inspirational quote: "Tell me, what is it you plan to do with your one wild and precious life?" (Mary Oliver)
Anything else you want us to know about you? I've always been a bit shy to talk about myself, but I'm going to let it rip for the group coaching conversation. I'm used to presenting in tech communities, but not used to talking about myself :).