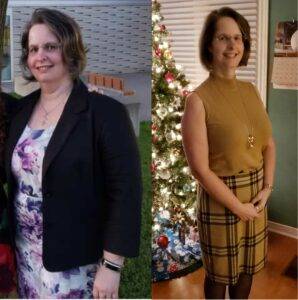 We are thrilled to announce Shelly Miller will be the featured member at the Group Coaching Zoom meeting, Tuesday, February 2 at 5:30 pm EST. If you're interested in learning more about the Group Coaching program or signing up, you can do so here. For the month of February, the Group Coaching calls will talk about the science, strategies and challenges to fasting.
First name: Shelly
Where do you live? Stirling, Ontario (population 1,800 – 2 hours east of Toronto), or straight north of Rochester N.Y. (across Lake Ontario)
Profession? Worked in Quality Control at an ExxonMobil Films Plant for 22 years – 12 hour continental shift work. Now I am an accounting clerk at a rural hospital (34 beds) with a Monday to Friday schedule.
Diet/weight history? Can always remember being the chubby kid, in my class in primary and middle school. Junior high I did slim out a bit, but then we moved across the country, the process taking a month visiting family and friends in almost every province between. This trip took its toll, I was heavier at the end of that one. I bounced around a lot, gaining and losing, and so on. I can remember being a teenager and not eating for 24 hours without anyone figuring it out. I did this a few times, but not too many because there was a belief that I was doing harm to my metabolism. If I knew then what I know now….
How long have you been low carb? Learned about Keto and IF in July of 2019, and started then. I didn't really clue in right away that this is something that I did just over 20 years prior. Went to my GP at that time because I was doing the right things to lose weight but was unsuccessful. I wanted to know that I could lose weight because we were thinking about having a family and I didn't want to keep on the "baby" weight. GP had me do a glucose tolerance test, I passed so he suggested I read the book called Sugar Busters. So, I cut out sugar, potatoes (which was mostly chips!), cookies, ate flax bread instead of regular bread. Limited my fruit, but not as much as I do now. The weight fell off me. Over time I slowly fell back into old habits and with having kids etc. I was back to my old way of eating. I am hoping to get down to the weight I was at when I did Sugar Busters, it may not be possible as now I am in perimenopause and the normal is to gain at this point. ☹
Why did you start low carb? A neurologist said I was pre-diabetic (A1c 6.5) and that was the reason for the tingling in my feet that had been there for a year and a half. The GP that referred me said diabetes wasn't the cause of my neuropathy. He also did not tell me that my A1c was 5.9 and that I was at risk of developing full blown diabetes. So a year later when the neurologist saw me (with no A1c value from the GP) he did blood work amongst other things, the A1c value was now 6.5. There was his answer – small fibre neuropathy. He has basically refused to see me since his diagnosis.
How did you start? Read the Obesity Code and shortly after The Complete Guide to Fasting by Jason Fung as recommended by my new GP, she also told me to check out the Diet Doctor website.
Immediately stopped snacking – this was huge, I often went to the cupboard even when I wasn't hungry. I was bored, depressed or whatever;
Immediately cut out fruit other than berries;
Immediately cut out grains;
Within 2 weeks cut out breakfast;
Ate two meals a day for a couple of months;
Started to go longer in between the dinner meal and "breakfast" the next day working up to 24 hours;
In fall of that year I tried to start doing more than one 24 hour fast a week, then I moved into doing a 42 hour and some 24 hour fasts in a week. Eventually trying to get 3×42 hour fasts a week. Not many weeks were successful with 3. But I was happy with whatever I did, as long as it was something.
Currently I have been struggling with the 42, but do OMAD quite often.
How has keto changed for you over this time? I probably eat more meat than I did in the beginning, I try to have some form of protein at every meal, sometimes the meal is completely protein.
What do you struggle with? Getting bored with what I am eating — planning, is a big part of that. My husband works shift work and we don't always see each other, with the kids gone we don't "have" to have a plan so it will be last minute meals which doesn't offer as much variety as having meat thawed out to cook.
What benefits has low carb given you? I've lost 50 pounds! My A1C is down to 5.6 from 6.5, so I'm no longer pre-diabetic. Plus I've been on anti-depressants since 2012 and this year I am hoping to wean myself off of them completely.
What do you love about low carb? The freedom of not worrying about when I will eat or have to cook next…the answer is to fast. Plus, I don't have to worry about getting hungry somewhere and there being nothing that I can eat, just fast. Get a drink (water or tea) and get my mind onto something else, the hunger will pass.
Top tip? Don't let "nonbelievers" cloud your judgement. If you want to fast, then fast. If they try to convince you to have a piece of fruit because it is healthy and can't hurt you, don't cave in. Trust the process, there will be good days and some that are not as good but in the long (and sometimes short) term the results will be worth the effort.
Advice for people just starting out? Don't stress about the macros, eat low carb, don't snack and DON'T beat yourself up. Listen to your body, if you are trying to fast and your body is saying "NO" by making you feel unwell then honor the "NO". I have never counted macros once!!!
Favorite low-carb meal on the go? Boiled eggs. If I have cottage cheese, I will cut up the eggs into it and add fresh spinach. I also will add a cut up avocado to this if available, with Himalayan salt and fresh ground black pepper,
Favorite low-carb meal to cook? Spaghetti Squash with low carb cheese biscuits. Eggs, in quiche, poached or fried.
Favorite holiday/special occasion recipe? Don't really have one. These meals are usually with family, so the menu isn't based on low carb. I just replace whatever I need to with low carb options.
Favorite inspirational quote: "Give yourself grace"
Anything else you want us to know about you? The strategy of keto and IF has become something that I want to tell everyone about, it has become a passion. With my kids off to post secondary education I need to have something in my life to be passionate about. I think spreading the word / helping people find this way of life has given me what I am looking for. I have helped a couple of friends with this, hearing their progress and accomplishments is more satisfying than my own.