We are thrilled to announce Stacy Rappold will be the featured member at the Group Coaching Zoom meeting, Tuesday, February 16 at 5:30 pm EST. If you're interested in learning more about the Group Coaching program or signing up, you can do so here. For the month of February, the Group Coaching calls will talk about the science, strategies and challenges to fasting.
First name: Stacy, married for 20 years, 4 children (ages 18, 17, 15 and 12)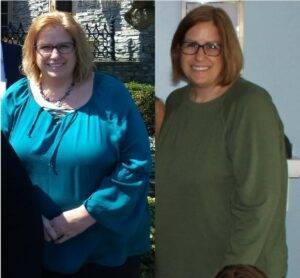 Age: 52
Where do you live? Pittsford, NY outside of Rochester
Profession? Dental Hygienist
Diet/weight history? Like most of us, I have tried everything: Weight Watchers many, many times. Nutrisystem, South Beach, Slim Fast, Medi-Fast, Diet Center, Apple Cider Vinegar Diet, and many other fad diets. I remember eating cold Oscar Mayer hot dogs and Wasa bread (which I hated) in college every day because that diet was the answer, haha! I finally gave up in 2010 and decided to have lap-band surgery. I lost a significant amount of weight, maybe 70 pounds, but started having trouble with regurgitation, and the band had to be loosened. I gained all of the weight back plus another 25 pounds. I was demoralized, embarrassed, and furious, along with many other emotions. Since 2012, I've tried WW again, sugar detox, My Fitness Pal, Lose It! app, all with very little success.
Successes achieved on low carb? Weight loss, feel better, more energy, better mental state
How long have you been low carb? Started April 2019. Stopped November 2019, restarted July 2020
Why did you start low carb? My brother started with Dr. Tro in 2018 and was more excited than I had seen him in years. He got my parents on board too, but I wasn't ready for another diet. Out of desperation, I decided to try low carb in April of 2019. I had no real guidance other than talking with my brother who lives 6 hours away and also has 4 kids, so not much time to chat. Not understanding how it worked, I was very frustrated that I went a few weeks without losing a pound. My brother kept encouraging me and the scale finally started moving. I felt great and had a good summer. When Fall came, my clothes fit better than the year before. It was amazing! Unfortunately, when Thanksgiving hit, I didn't have the tools to work through the temptations. No recipes for replacements. I was too easily tempted and didn't resist. I tried to get back on the right path, but failed and one day turned into 6 months of indulging. I love to bake and when I was stuck at home because of COVID, I made many delicious baked goods 'for my family' but I managed to eat as much and usually more than them. I was gaining again and mortified, miserable. When my dental office reopened in June, my scrubs barely fit. Thankfully, at my brother's suggestion, I made the decision to contact Dr. Tro's office and started working with Amy. I loved the accountability of the daily weighing, I loved meeting with Amy and I continue to attend the Tuesday meetings as often as I can.
What do you struggle with? I definitely struggle with feeding my family. There are snacks around that tempt me. We moved to a new house in October and we have a lot more cupboard space so all of the snacks that I don't want to eat are out of sight, which helps most of the time. There is a mental battle going on all the time between knowing what's good for me to eat and knowing that what my family eats isn't good for them. But what right do I, a lifetime overweight woman have to dictate what my family can eat?! I do make keto-friendly dinners, but if they're still eating carbs, I feel like I'm doing them a disservice (higher fat but still carbs). That being said, I was overweight before I married and had kids so I'm not blaming my struggle on them!
I'm also struggling now with staying low carb. I've been gaining and losing the same 10 pounds since October. I string a few really great days together and then I go off the rails. I'm usually better during the week at resisting because I'm so busy at work. Any free time or alone time makes me want to go back to old habits. So glad that I don't eat in the car anymore! That was a horrible habit.
What do you love about low carb? I eat really delicious food and still lose weight.
Advice for people just starting out? Stay connected to someone who understands low carb. Accountability is huge!
Favorite low-carb meal on the go? I haven't really eaten out since COVID, so almost all of my eating is at home.
Favorite low-carb meal to cook? Diet Doctor pizza (egg and mozzarella crust)
Favorite holiday/special occasion recipe? The cheesecake recipe Amy shared with me!
Favorite inspirational quote: Not my favorite, but I just saw this yesterday and showed my girls: "God is still writing your story. Quit trying to steal the pen. Trust the author."