We are thrilled to announce Suzy Demeester will be the featured member at the Group Coaching Zoom meeting, Tuesday, February 23 at 5:30 pm EST. If you're interested in learning more about the Group Coaching program or signing up, you can do so here. For the month of February, the Group Coaching calls will talk about the science, strategies and challenges to fasting.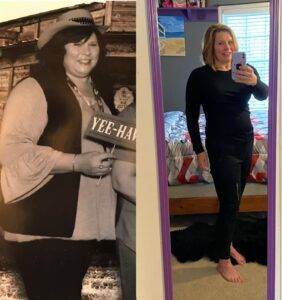 Name: Suzy Demeester
Age: 57
Where do you live? Elizabethtown, PA (Lancaster County)
Diet/Weight History? Weight Watchers, HCG Diet, counting calories, low fat
How long have you been low carb? Celebrating my third year on March 4, 2021
Success achieved on low carb? Eliminated non-alcoholic fatty liver, reduced hypertension, reduced triglycerides, raised HDL, lost 60 pounds, started running for the first time in my life!
Why did you start low carb? My company is in the animal nutrition business, and one evening I had the pleasure of eating dinner with our Research and Development team. The sales manager, who also joined us had recently lost a noticeable amount of weight, they asked him how he did it and he described his fasting program. Much to my surprise, every one of these scientists was doing some form of fasting.  Intrigued, I proceeded to dive into researching the topic and found a documentary called the Real Skinny on Fat which featured all the scientists I needed to hear from including Jason Fung, who had me at hello.  His description of insulin resistance made me realize I was chasing the wrong metric all these years – weight. My real why was to fix my metabolic syndrome.
As I dug into the science, I learned how closely aligned success was with low carb.  Both my why and my how became pretty clear.
How did you start? Simplicity was paramount, so, I decided to focus on cutting out all sugar, grains and seed oils. No fasting. No exercise – just learning what to eat, how to prepare it, how to read labels. My job, pre-Covid, saw me traveling 3-5 days a week so learning about what to eat in restaurants was a big focus. Once I mastered that, I added fasting.  To improve my NAFL I participated in three 43 hour fasts a week, for a time. At about the one-year mark I added in exercise.
How has keto changed for you over time? Like the stories you have likely heard, my keto has evolved.  Right now, I am going back to clean keto: tighten up sources of carbohydrate, no peanuts, no Diet Coke, strategic use of fat. I generally eat one meal a day, but have found a hard-boiled egg mid-afternoon helps get me through the 3pm witching hour. I also suspect I had not been eating enough protein, so have increased that — and, as much as I hate fish, I am trying to eat more salmon and sardines.
And, now I exercise.
What do you struggle with? Until 2019 I hated coffee, but for some strange reason I thought it would be a good idea to start drinking it. Being a former Dairy Princess, I had to add Heavy Whipping Cream. I have a cup or two of coffee with HWC and that likely sabotages my efforts. Until recently, I couldn't ditch Diet Coke or peanuts, but proudly I'm doing ok without them.
My real struggles come from the fact that I want to be 20 pounds lighter – I feel it will help keep my hypertension at bay and will make life easier on my joints. And I don't want to be a health burden to my children (Plus, I want my future grand kids to think they have a smokin' hot Grandma!)
Honestly, I think I try to serve too many masters with fasting, exercise, low carb, no extra fat, etc.  Going back to the date that brought me to the dance – eggs, meat, fish, cruciferous vegetables – just might get me pointed in the right direction.
I struggled with my previous relationship with my doctor. After correcting all my health parameters and losing so much weight he would not even entertain any discussion about cholesterol because my LDL was elevated.  He wouldn't even let me get a CAC test, but spent the majority of the appointment discussing my already healed knee and put me on a statin.  Well, I finally did get a CAC score and it was 0.  I ended up switching to Dr. Tro and have never looked back.
What do you love about low carb? When I was starting to eat food my Dad gave me slices of steak to suck on. So, the steak is the best part. But, the clear mind, the internal and external physical changes
Top tip? Give yourself grace. Also remember: you can eat anything you want. Just know the risks and get back on track immediately.
Advice for people just starting?
Do your own research (it is very individual and there are a lot of people who do not have your best interest in mind)
Know your why
Start slowly, master one step at a time
Read labels and identify sources of carbohydrates
Take your electrolytes
Stick with it.
Listen to your body and be mindful of what it tells you
Document your non scale victories
Find credible mentors and a healthcare practitioner that supports your efforts
Find a support group
Don't think of yourself as a victim. You are a victor
Be grateful
Surround yourself with rich souls
Give yourself grace
Favorite low-carb meal on the go? Pittsburgh Rare Filet Mignon
Favorite low-carb meal to cook? Ribeye, roasted Brussels Sprouts, side of avocado
Favorite holiday/special occasion recipe? Keto Cheesecake (no sugar or sweetener)
Favorite inspirational quote? "We are not put on this Earth to see through one another.  We are put on this Earth to see one another through." (Gloria Vanderbilt)
Anything else you want us to know about you? In October 2020, for the first time in my life, I ran a continuous mile.  Today, I am running 4 miles and will run a 5K with my fabulous doctor this summer.
The Suzy Demeester story is not very dramatic – my successes not grand, but I think it could resonate with the average person who struggles with metabolic health. Furthermore, I want to be very clear, I wasn't a victim, I just wasn't ready to embrace the science.
I often wish my Mom had known about it as I think she'd still be alive today, but I know it now and my story can be a positive influence on others.
My earliest memory of being concerned about my weight was 3rd or 4th grade.  We moved to Sussex County, NJ from Montclair, NJ.  I was quite a swimmer in Montclair, but something changed about my body and I didn't want to continue with swim team when we moved to Lafayette.  In fact, that summer, my first crush referred to me as Fig Newton. He was still going to marry me, but I was Fig Newton nonetheless.
As we grew, my younger siblings were coming into their own.  Every one of them gorgeous and athletic.  They would walk into a room and every head would turn, but I was often referred to as Fat Voight by the kids in school. That hurt, but I just worked on areas I excelled at like band and 4H. My Aunt moved in with us while her husband was overseas in the Marines. She put my Mom and I on her modification of Weight Watchers. I hated it and it didn't help me at all.
In high school I got back into swimming and swam the 500m. So, I just maintained right through college and into my first career. In retrospect, I wasn't as heavy as I thought I was, but I was just conscious that I wasn't super thin.
As I prepared for my wedding, I did find success with Weight Watchers, but as soon as a little stress entered the newlywed life (new high-level job) I began to put on the pounds. I also found success with the HCG diet. In fact, I kept the weight off for quite some time, but then my Mom was diagnosed with melanoma, and with me as her primary caregiver she beat it. My son was starting college.  My daughter was being heavily recruited to play Division 1 Field Hockey.  I began a bigger job, and, the icing on the cake was that my Mother unexpectedly died from negligence at the hospital while I was away with the kids. The day my son graduated from college I had to force myself to be in the pictures because I was so ashamed of how I looked — but it was his day. It took me a year and a half before I was ready to embrace low carb. You must be ready to make the change. The day my daughter graduated from college, I had lost the majority of the weight and was proud to be in every picture!